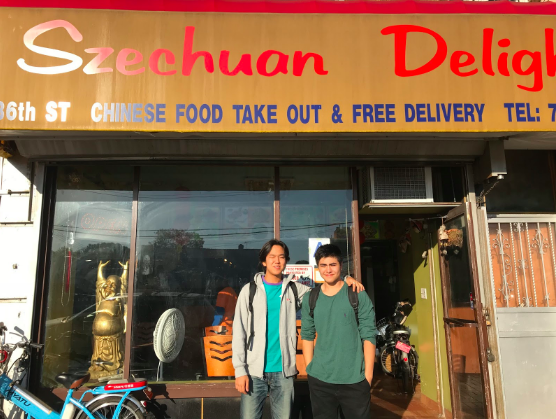 Chadd Chang-Venner
We stayed close to home for this one. Kaito Tsukamoto joined me on this month's Asia Society Asian food review.  Kaito grew up on the streets of Tokyo, eating some of the finest Japanese cuisine in the world. I have spent a large part of my life in Beijing, a city that prides itself on serving good food. Even though we both went in with high standards, Szechuan Delight did not disappoint.
Located on 86th street and 7th avenue, right next to Dyker Bagels, the restaurant has a very pleasant aesthetic. Red paper lanterns gently swayed from the ceiling. A bubbling aquarium teemed with colorful fish. Every wall was decorated with the masks of Chinese heroes: Sun Wukong, the monkey king of 花果山 (Huaguo Shan), watched over us as we ate.
Kaito ordered the sesame chicken and I ordered the beef chow mein. From afar we observed the chef become one with his wok. He expertly tossed pieces of glistening chicken into the air with calculated flicks of the wrist. Then he showered the sizzling chicken with white sesame seeds. Not only were the two dishes only nine dollars, they were cooked and served in under five minutes.
Kaito had this to say about the chicken: "Aight so. It is very sweet. When it touches the palate, the taste explodes in your mouth. The sesame adds a little magic to the taste. The soft inside has a nice contrast to the caramelized exterior. To be honest, this is actually fire."
My impression of the beef chow mein was also very positive: the beef was so tender. It was like it was melting in my mouth. The noodles have a very authentic flavor and the cabbage adds a nice little crunch together with the beef. Excellent combination.
The consensus? Szechuan Delight is an affordable restaurant with surprisingly good takeout. The best part is, it's only a short walk away from our school. If you are staying late and suddenly have a craving for something Chinese, Szechuan Delight is the place for you.