"Swinging at Walls": A Talk About Personal Courage in Sports
When professional squash player and author Maria Toorpakai Wazir was four years old, she burned all of her old childhood dresses and renamed herself Genghis Khan. Eight years later, she won all an all-boys weightlifting championship in her hometown of Waziristan, Northern Pakistan. Now, as a professional squash player ranked 56th in the world, she is a symbol of female strength, determined to push back against gender barriers.
On Monday, November 27, Poly History Department Chair Michal Hershkovitz and squash coach, Ben Oliner, hosted "Swinging at Walls: A Talk about Personal Courage in Sports." The talk was coordinated by both the History and Athletics departments, and featured Wazir followed by a panel of three teachers and one student: history teachers Maggie Moslander and Tyler Miller, psychologist Karen Ezra and sophomore Lark Ervasti.
Wazir told the audience about how she dressed up as a boy until she was a teenager to play sports in a society that often repressed the rights of women and girls. Under the Taliban, girls are not allowed to play sports, learn to read, or even attend school. However, Wazir grew up in a family that accepted her identity and valued knowledge, even though few girls were literate.
Wazir said she is especially grateful for her father, who supported her passion for squash from a young age.
"He never let us feel as if we couldn't afford anything," said Wazir when telling the audience about how she almost didn't play squash because her family couldn't pay for the rackets. She said that her father often reminded her that "the richest person is the one who has knowledge."
Soon after Wazir turned professional at age 16, the Taliban threatened her and family, prompting her to stay and home and practice against her bedroom walls. These years at home forced Wazir to truly understand the seriousness of the Taliban regime. After three years of sending e-mails to various squash teams in an attempt to leave Pakistan, she got a reply from the National Squash Academy in Toronto, where she went to train in 2011.
Many students and faculty found Wazir's message about female empowerment and overcoming adversity incredibly inspiring. Senior and squash captain Andrew Leung was moved by her presentation, especially because he plans to pursue squash in college.
"Ms. Toorpakai Wazir was truly one of the most interesting and inspiring people I have had the chance to meet. Her talk inspired me to become more courageous in life, both on and off the court," Leung said. "No matter the circumstance, one can always strive to become better: it's whether we are willing to take the risk."
Moslander, who teaches Women's History and United States History, found that Wazir's talk touched on many of the gender and women's rights issues she discusses in class.
Moslander said that the talk made her examine "how much the world puts on us as boys and girls and how much that can define our experiences in contrast to how we may feel inside."
Wazir closed out the talk by answering questions from the audience and sharing more insights on her journey.
"The men think only they can be scholars. Why? Because women will talk for their rights," Wazir said. "The bravery of a man is in empowering women."
About the Contributor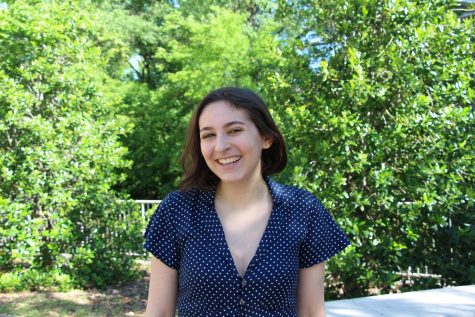 Liat Weinstein, Online Managing Editor
Liat Weinstein '18 is the Online Managing Editor of the Polygon this year. She joined the Polygon in the spring of her freshman year as the Photography...