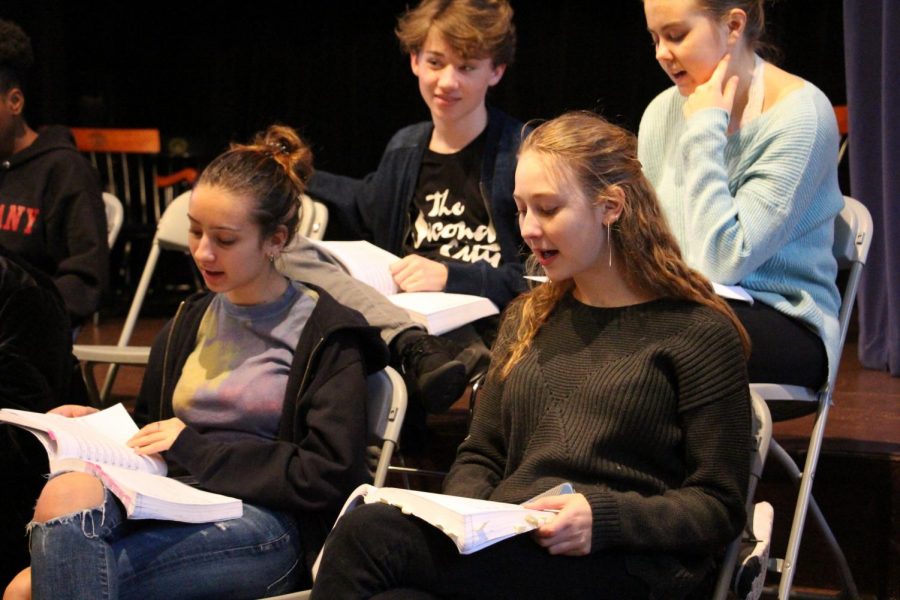 Liat Weinstein
On Monday, November 27, a large group of Poly students gathered outside of room 201 for the first day of auditions for the annual upper school musical. This year, the musical is Into the Woods by Stephen Sondheim. It will be directed by performing arts teacher and director Sonya Baehr, Performing Arts Department Chair Daniel Doughty and dance teacher Danielle Bensky. Although the show has been performed at Poly before, it is fitting that Baehr produces one of her favorite musicals before she retires at the end of this year.
Auditions began the week that students returned to Poly from Thanksgiving break and lasted for three days. The first day was the singing auditions. Students received the music for auditions prior to Thanksgiving break so that they could have time to prepare. Usually the music auditions are held in the chapel, but due to a speaker that day they were held in Poly's music room. Students were called into the room in groups of four based upon the song they wished to audition with.
The second day was movement and acting auditions, which occurred in the dance studio. The dance auditions depend upon the show; a show such as Into the Woods has minimal dancing, so a complete dance audition is not necessary. However, shows that are dance heavy such as Pippin, performed in March 2017, require a full day of dance auditions. Students were taught a short combination which they were then asked to perform in small groups while acting as a character of the show. Students were then given sides, short segments of scenes used in auditions, for specific characters and were asked to perform with other students assigned the same side.
The third day of auditions was callbacks, which are used by the directors in order to determine roles for students that they have not already cast. Callbacks consist of both acting and singing, and the directors ask students to perform the callback materials or new material that they hand out on the spot. Baehr, Doughty and Bensky let some students go when they have seen them perform an adequate amount of material in order to cast them in the show.
This structure can change depending on what the show requires; sometimes there are separate days for each category: singing, dancing, and acting. This means that the callbacks will be the fourth day of auditions.
The cast list is released in the morning of the day after callbacks. Students are expected to initial next to their name to show that they accept the part they have been cast in. Unfortunately, not all students can be cast in the musical due to the limited number of roles available. However, there is always the fall play and the musical the following year.
Into the Woods is being performed on March 2, 3 and 4, 2018. The cast and crew is currently hard at work to produce a wonderful show that will be worth the wait.