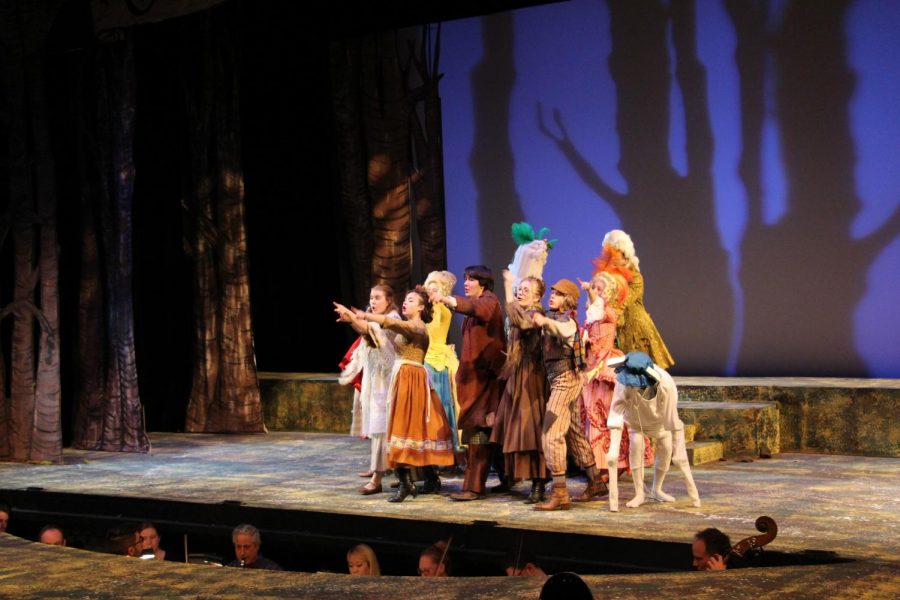 Lily Ray Darling
With a talented cast and an enthralling plot, this year's Upper School musical, "Into the Woods," combines classic fairy tales into a spellbinding two-hour performance. The story follows a baker and his wife, who are attempting to start a family, and are cursed by a witch. The show then portrays the various interactions between these classic storybook characters. The production will be performed on Saturday, March 3 at 7 pm, Sunday, March 4 at 3 pm and Monday, March 5 at 7pm. The Friday, March 2 show was cancelled due to inclement weather. 
Throughout the past three months, the cast has been working hard memorizing lines, practicing musical numbers and learning the songs. Sophomore Yashimabet Drummond, who plays Little Red Riding Hood, said "everyone is efficient, especially when it comes to learning lines… the cast and I are working our hardest to make this the best musical it can possibly be, while still having fun while doing it!"
While this year's musical is not as heavy in dance numbers as in previous musicals, the extensive musical performances, diverse array of characters and talented vocalists will all combine for an entertaining and captivating night.
The musical has special significance this year, as Upper School Drama teacher and Theatre Director Sonya Baehr will be retiring after spending more than 20 years at Poly. Senior Olivia Whitmer, who plays the witch, one of the main characters of the musical, said "Into the Woods, since it [was written by Stephen] Sondheim, is a massive project…however, there's a reason that Ms. Baehr chose this for her last show. It's a show that pulls all of the cast together as a family, and has themes of growing up, making mistakes, and finding true happiness-something that really hits home, especially for the seniors of the cast."
Many students have been working behind the scenes to ensure that the musical is a success. Students have helped build stage sets, design the lighting and help create costumes. Sophomore Alexandra Nava-Baltimore, who has been on costume crew for two years said that the "costumes are coming along well." However, she also said that designing costumes has been more challenging this year due to the fact that they must comply with the specific setting of the show and must resemble common depictions of these storybook characters, which has given the costume crew less freedom and autonomy as compared to previous years.
One of the challenges this year has been the absence of Baehr, who took a personal leave from Poly a few weeks after rehearsals began in November. Without hesitation, choreographer Danielle Bensky and music director Daniel Doughty stepped up to the plate to direct the musical, along with the guidance of Baehr from afar. Although the musical is coming along beautifully due to the wonderful acting and vocal talents of this year's cast, it has definitely been a little more difficult with the absence of  Baehr, who has been the guiding force of Poly musicals for decades.
Whitmer said "Mr. Doughty and Ms. Bensky have been incredible in helping us bring all of our stories to life and and we're all super excited to share it with our audiences. It's definitely a show that will be hard to say goodbye to."