"Romantic Outlaws": Author Charlotte Gordon Visits Poly
Standing at the podium in the center of the library on Wednesday, April 18, author Charlotte Gordon captivated the attention of those around her. Gordon discussed her newest book, Romantic Outlaws: The Extraordinary Lives of Mary Wollstonecraft and Mary Shelley.
Gordon, a distinguished professor of humanities at Endicott College in Beverly, MA, gave an overview of her book. She talked about her research on Mary Wollstonecraft, an 18th century philosopher and author of The Vindication of the Rights of Woman, and her daughter Mary Shelley, the author of Frankenstein. Gordon's book is written as a dual biography, detailing the lives of this mother and daughter through alternating chapters and providing an insight into their lives.
Gordon's talk was one in a series of lectures titled "Context: Conversations at Poly Prep," which hosted professor and political scientist Jeremi Suri in January. Authors and  scholars visit Poly to share their knowledge and engage in discussion with members of the Poly and Bay Ridge communities. This particular discussion was moderated by the AP European history class, who read portions of Gordon's book earlier in the year as part of their curriculum.
Students from the AP European History class began the event by reading selected excerpts from her book. Gordon then began her talk and presented an informative slideshow which provided an overview of the two Marys' lives.
When describing her motivation for writing the book, Gordon  said "I was fascinated by the fact that they were mother and daughter," which was something she said she didn't know before writing the book. She then discussed how she went on a "pilgrimage" to learn about their lives and developed a "weird, nerdy obsession" with their dual narratives.
Gordon talked about how Shelley and her work were influenced by her mother, which is something that very few prominent scholars had previously considered. This realization prompted Gordon to write the book in alternating chapters from the perspectives of both Marys.
"Gordon's visit was both informative and enjoying to watch," said senior Nick Devito, who is a member of the AP European History class. "Too often we learn history as a collection of facts and events but she, and her novel, made history come alive."
Senior Diana Bogdanos, a AP European History student, posed a question to Gordon concerning the phrasing of the book's title, "Romantic Outlaws," and what it means in the context of her novel.
"I was always into the word outlaw. It's a Wollstonecraft word. The word wild in the 18th century had revolutionary and bad implications," Gordon said. "Wollstonecraft wrote about being outside the walls of society and being a revolutionary."
Melissa Morales, a historian and member of the Bay Ridge community, asked Gordon about the challenges of writing about women who have often been underrepresented and devalued in historical discourse.
"It's hard to write when it feels no one cares," Gordon responded. "I thought, oh, it's just another story about women, who will even care?"
Yet, she continued to address the importance of communicating this story. After receiving positive feedback about her book, Gordon realized that people were interested in her contribution to a conversation that had previously been dominated by male historians.
Dean and previous English teacher Emily Gardiner said "I thought she was really charming and clearly really attached to her subjects and that love came through in her talk. I also was impressed baby the struggles of these 18th and 19th century women and how they're still somewhat relevant today."
About the Contributor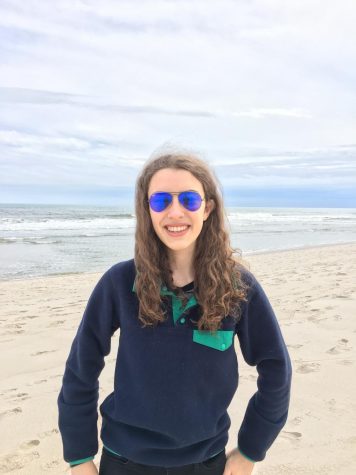 Maddie Winter, Editor-in-Chief
Maddie Winter '18 is the current co-Editor in chief of The Polygon. She started writing for the Polygon in her sophomore year and became the Managing Editor...