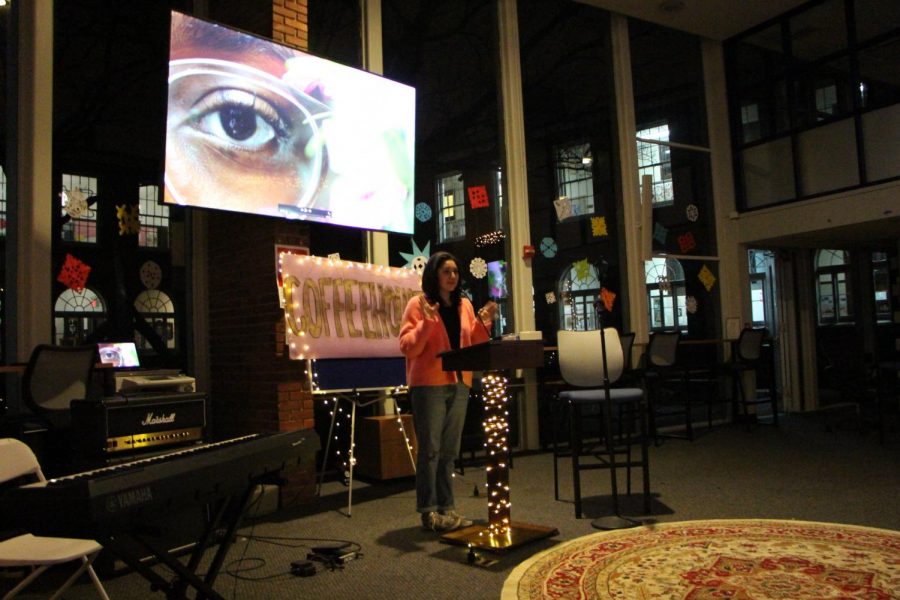 Lolita Mafoud
The Poly community came together on February 7th for the first session of the newly formed event: Coffee House. It's a unique opportunity for students to showcase their talents to their peers. Teachers and students alike gathered in the library, which was adorned with twinkling lights and also included hot chocolate and snacks. A buzz of excitement pulsed through the room as performers were announced, and a silence fell over the crowd as students went up to sing, recite poetry, play musical instruments and much more.
The idea for Coffee House was originally introduced by English teacher Sarah Whalen. She came up with the idea after noticing the tension that had shifted to the school. Her goal was to build a stronger sense of community.
Whalen asked her students, "What can be done? How can we amend what happened and how can we fix the hurt that's very evident in this community? Can we come together and collectively define what needs to happen?"
The answer to all those difficult questions, as it turned out, was the idea of Coffee House, which Whalen calls "a creative community made by students for students." She has a vision and a number of goals for what she wants Coffee House to become and the role she wants it to play in students' lives.
"I want it to be a place where students feel seen and where they feel heard and where they can come and support each other," Whalen said. "I want it to be something that students look forward to."
In addition to this, Whalen also noted another motivation behind Coffee House — she wants to do her part in making sure that members of the Poly community feel safe, happy, and recognized in their school.
"I think we need to remember that school is for students," Whalen said. "It's about students and [their] emotional health and wellness."
Sophomore Athena Chuang, who performed her original song "Butterflies", was one of the many talented students who showed up to the event. "Coffee House was a great experience for artists to perform or showcase in a much closer environment than most gatherings at Poly," she remarks.
The audience members were also enthralled by the performances. Sophomore Isabel Lagdameo said, "It was a nice way to embrace the sense of community in our school."
Inspired by the immense success of the first one, Whalen is already planning future Coffee Houses. She hopes to continue spreading this positivity throughout the student body.
"I would love to see this happen every month and become something that a lot of people look forward to," Whalen said. "I am just so happy with how the first one went, and I'm so amazed with how many talented people there are at this school and the supportiveness of all the students."
Make sure to keep an eye out for updates about the next session of Coffee House, which is scheduled to happen again in early March. Come to be inspired and awestruck by the talents of your fellow students, or present something of your own. All are welcome in this new, safe space at Poly.
The Coffee House Board would like to extend an invitation to all to the next session on Wednesday, April 10th.