Poly Students Participate in Climate Strike: The Youth Take Charge
In a school that's often hailed by faculty and administration as a "microcosm of America," an undeniably diverse nation in every respect, a sense of unity can be difficult to find. I have found this sense of unity and pride in a few instances, after winning Cross Country NYSAIS in 2018, during the blackout last January, and on September 20th during the Climate Strike. 
The strike started with about 200 students walking out of their second period classes and into the oval. There, seniors Nick Perez and Olivia Hurley implored the student body to do all they could to prevent climate change because, as Olivia said, "I think we all think we are far from it, but it is quickly approaching."
After hearing from these two leaders, roughly 75 students, filled with excitement and ready to make a change, grabbed their passes from the deans, left the school, and headed to Borough Hall on the R Train. 
Though the goal was to meet up with other Brooklyn schools at Borough Hall, we forgot to account for the fact that we were riding one of the worst trains in the city, so of course we were late. Nonetheless, with posters still in hand and sweaters being peeled off, it was an uncharacteristically warm day, we crossed the Brooklyn Bridge. 
Even before we got off the bridge, we could already see a huge crowd had amassed at City Hall. We pushed our way into the crowd, posters demanding change held high above our heads and the words of the nearest chant in our mouths. At this point, the group fractured. I latched onto the only authority figure in sight, Olivia, and followed her and about ten others into the depths of Foley Square. 
Amidst the clamor of chants and fervorous students from lower school to college, I had the opportunity to ask some people why they came to the Strike. The sentiment that was echoed amongst those I talked to was one of fear. Junior Brooke Johannesen said she attended because "I'm very nervous for my future" and Junior Charlotte Knutsen added that "we are the last generation that has a chance to do something about the climate before its irreversible forever. It's already irreversible, we just have to do as much as we can."
It was this sense of urgency that spurred 100,000 students to leave their classes and head for lower Manhattan and how I derived a real sense of camaraderie with the people around me. This was only helped by the miraculous reunification of our group as we marched down to Battery Park and most importantly, the chants of "what do we want? Climate justice! When do we want it? Now!" led by Senior Nyla Welch and several others, that spread like wildfire, not just among the Poly students but to many of the other schools. It was these chants, that ranged from demanding justice to berating Wall Street, the people all around the city who joined in yelling with with us, and the looks of pride upon the faces of the older members of the crowd that made me feel proud of Poly for doing what we could and proud of the students of this city for doing so as well. 
In Battery Park, many students had the opportunity to hear from Greta Thunberg, the 16 year old Swedish climate activist who single-handedly pioneered the Fridays for a Future movement. This was a full-circle moment for many, including Olivia who said that "Hearing Greta speak was like seeing my favorite artists. For many months I've been watching her speeches online so to see it in person was so inspiring and breathtaking."
I hope that people like Greta continue to inspire and that we, by walking out of school on that Friday in September, let people with power know that young people are serious in their demands for change. 
About the Contributor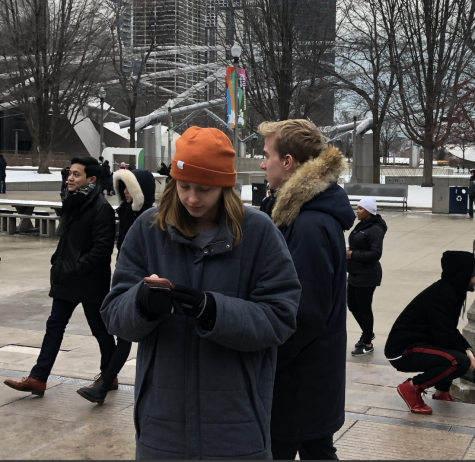 Tessa Marker, News Editor
Tessa Marker '21 has been a staff writer for the Polygon since her freshman year and has enjoyed taking on more responsibility as a News Editor last year...