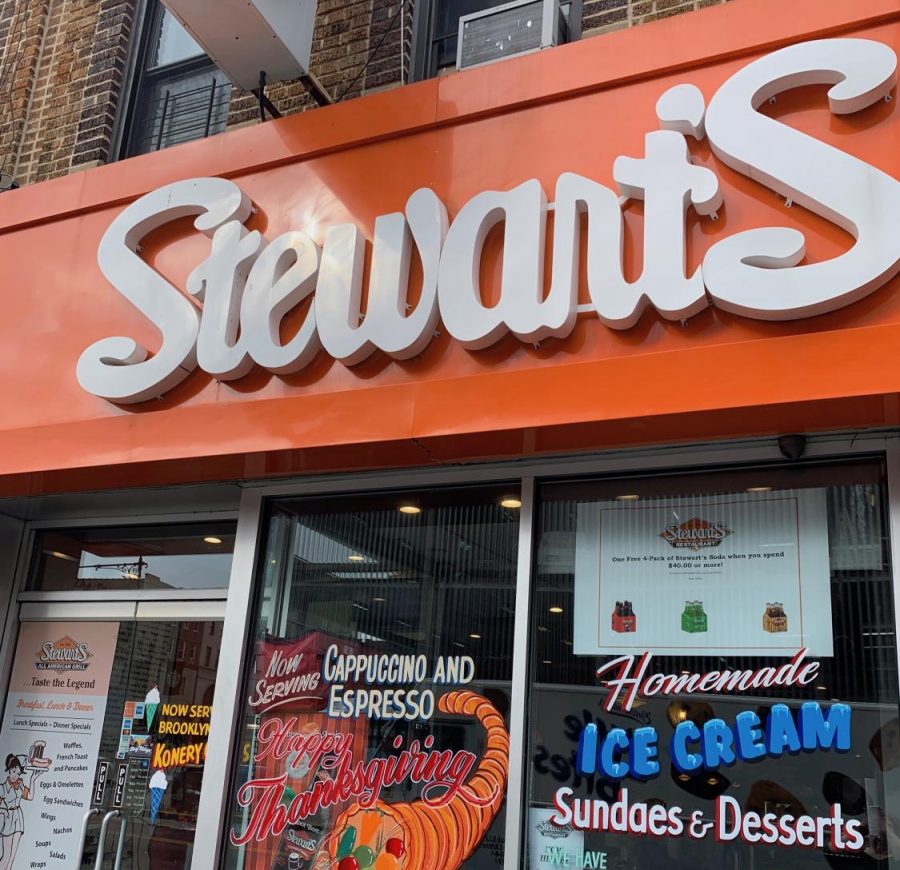 Emily Weinstein
Early on Tuesday morning, Senior Madison Malerba and I took a drive off of Poly's campus to catch a late breakfast. We decided to visit a small diner our friend Senior Lark Ervasti had recommended to us: Stewart's. 
It was less than a mile away and took us five minutes in the car, a fifteen minute walk from Poly's front gates. We easily found parking down the block. Madison celebrated our arrival by doing a heel click as we crossed the street to the grand orange sign that bore the name of the restaurant: "Stewart's." This diner, one of the thirty locations in a chain, is famous for its root beer and burgers, but we wanted to test out their other options.
As we stepped in, it was as if we were stepping back in time. Alternating black and white tiles flowed all the way to the back of the space. I did not recognize the song that lulled in the background, but it had the musicality of songs unique to the 1970s. 
"I feel like I should be wearing roller blades," Madison said, looking around the retro room. "You know, the beat up ones that are still fun."
Within seconds, the man behind the counter greeted us and told us to sit anywhere we liked. The place was crowded for a weekday morning, but there was still ample space. We chose a booth across from the counter, a brightly tiled breakfast bar supporting a glass case filled with delicious looking treats.
A waiter came up to us with spiral menus. The menu was short for a diner, but there were still plenty of options for Madison and me. She briefly scanned the menu before looking up at me very seriously and saying, "They have funnel cake." I reminded her it was 9:46 in the morning. "It's never too early for funnel cake," she said.
I ordered two eggs sunny side up with a side of white toast and a cup of orange juice. Madison ordered two sides of bacon with a coffee. We waited not even five minutes before our waiter came back with two steaming plates.
We dug in. There are half a dozen diners within walking distance of Poly, and the food here was not much different than the others. Perhaps because it was breakfast, a difficult meal to be terribly creative with, but nothing about the food really stood out.
What did set it apart, though, was the comforting environment. The music combined with the sugary smell of the pastries and the retro appearance of the space created a unique dining experience that hit the spot on a chilly Tuesday morning.
We finished up, paid our bill of about $16, a good price for what we ordered, and made it back to Poly with time to spare before our next class. I would say, if you are a Senior at Poly looking for a quick, cheap meal between classes, go to Stewart's. The food was decent, the service was great, and the overall experience was pleasant. 
When I asked Madison for her thoughts, she said, "The only issue I had was with you. You should've let me order the funnel cake."
Madison's Final Rankings:
Coffee: 3.5 Stars
(*Madison would like to note that no coffee she has ever had has earned five stars.
She is waiting for "the one.")
Food: 3.27 Stars
Atmosphere: 4 Stars
Service: 4.5 Stars
My Final Rankings:
Food: 3.5 Stars
Atmosphere: 4.5 Stars
Service: 4 Stars
We recommend it!