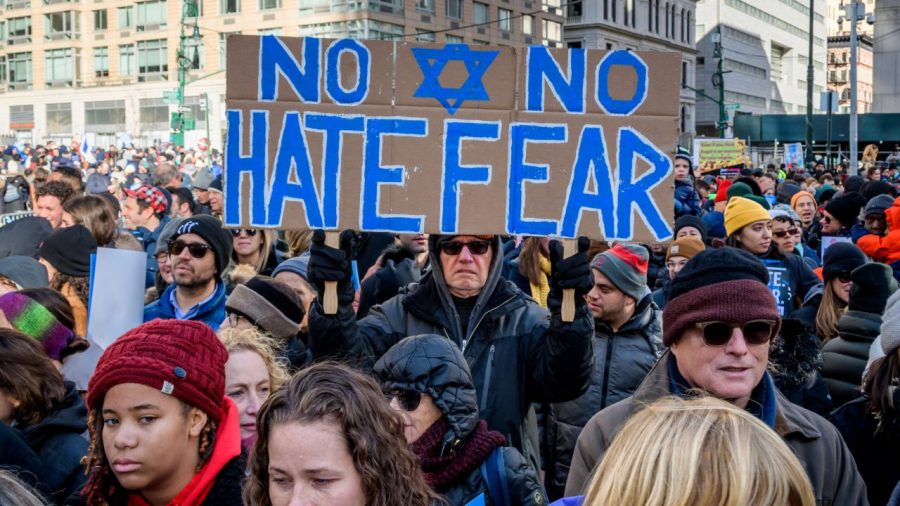 JTA-Erik McGregor-LightRocket via Getty Images
I used to think that anti-Semitism was just a matter of history.
On Sunday, January 5th, tens of thousands of people participated in the Solidarity March Against Anti-Semitism, crossing the Brooklyn Bridge to chants of "No hate, No Fear." Among the crowd were New Yorkers of all backgrounds, including Jews wearing black suits and yarmulkes, and others in street clothes, all bundled up to fight the cold. Politicians, including Mayor Bill de Blasio and Senator Chuck Schumer, read speeches denouncing the recent acts of anti-Semitism and attributing such behavior to the political climate of hate ushered in by the current Administration. 
The march was arranged in response to a recent increase in anti-Semitic hate crimes, including a knife attack in Monsey, New York on a Hasidic household during a Hanukkah party, and the mass shooting of six people in December at a kosher market in Jersey City. Both were within 30 miles of Brooklyn, where nearly one out of four people are Jewish. These attacks are part of a surge of not only Jewish hate crimes but hate crimes of all kinds. According to the New York Times, hate crimes rose nearly 20 percent in New York City last year.
Though I have been to other marches, this was the first time I identified myself as part of the group under attack. I felt vulnerable and afraid as politicians attempted to make sense of the recent rise of anti-Semitism. Before these attacks, I thought of anti-Semitism as something experienced by Jews in history books or halfway across the world. Although my great-great-grandparents were driven out of Eastern Europe in the 1880s by pogroms and anti-Jewish hatred, their history felt like the other stories I read in school. After so many years of believing that anti-Semitism belonged to the past or happened in other places, standing in the brutal cold amongst thousands of New Yorkers, it was suddenly clear that Jews are still targets of hate, even here in New York City. 
In Brooklyn, it's easy to forget that Jewish people are a small minority. My synagogue in Park Slope is one of the few synagogues where membership is growing. According to a study by the Jewish Chronicle, membership rates in synagogues across the country are falling. While Jews are nearly 13% of New York City's population, there are only eight countries in the entire world where the Jewish population is above 1%. Similarly, Jews are not always held in high regard. According to the Anti-Defamation League's study of global anti-Semitism in 2014, over a billion people hold anti-Semitic beliefs: 35% deny the Holocaust, and 41% believe Jews are more loyal to Israel than their own country. 
Given that the most recent incidents were just a few out of the 13 anti-Semitic attacks reported in the last few days of 2019, it is no surprise that my synagogue now has several armed police officers posted at its doors. As Jews, we are taught from an early age to be vigilant and to remember. The march across the Brooklyn Bridge was to protest recent events but was also a reminder that, as a people, we've been here before and are committed to preventing it again – for ourselves and for all others who are targets of hate.