Rachael Allen: Hot Off The Press!
Q&A Interview with New Journalism and Media Studies Teacher
Rachael Allen, the new Journalism and Media Studies teacher and faculty advisor to the Polygon, teaches one section of both Upper School and Middle School journalism. In her first year at Poly, she has already made a handful of accomplishments. Below is an interview with Allen.
Where did you used to work?
"I come straight from journalism. I first worked at the Atlantic Magazine in D.C… I was a fact-checker there…I loved doing that. I was writing this whole time…mostly profiles and feature pieces for a bunch of different places."
What led you to teach, especially high school students?
"I have always been thinking about teaching, but I knew I wanted to try writing. And then I [had multiple] moments when I was interviewing and writing stories [where I felt] I wanted to be teaching and working with the people that I was interviewing, rather than writing about them. So I started looking at teaching jobs, and this one was perfect because few high schools have a straight journalism teacher."
So far, what is your favorite part in teaching journalism at Poly?
"I've got a couple ones. I think for the Polygon, there have been a bunch of students who come up to me with story ideas of their own and are really excited. Even on our first day of [Journalism and Media Studies] class, I was pleasantly surprised by how much everyone had to say about journalism."
What are some ways you feel you will be a great addition to the Poly community?
"I know the…journalism world as it is really well right now because I'm coming from [journalism]. [It's] changed so much from even 10 years ago—just the way that reporters are. I hope the fact that I am one of the younger teachers can help me make my experience…more relatable to students because I can talk a lot about some of the struggles starting out. Those feel very real to me."
What inspired you to pursue journalism?
"I had always been very curious and I love to write, and journalism was a way that I could write creative stories I liked—use detail, write elaborate narratives, and all that."
In what ways do you hope to transform both student-led clubs (Polygon and Polyglot)?
"I'd like to transform the Polygon to be a couple different things. More self-reliance—I think that's the ultimate goal…whether that is copyediting, making sure everything is AP style and consistent, or scheduling stories. I want to open it up [so] we can have illustrators, people doing social media, or newsletters…I'd like to just make it bigger and have more pockets of it so more students can feel like they have a part."
What do you anticipate your favorite part at Poly will be?
"In my Middle School class, I'm looking forward to [building] a newspaper…It will be an insert in the Polygon. I'm excited to do that because we're going to have classes where we function like a newsroom [and] argue over headlines and who should get the front photo."
Do you have any hobbies or secret talents?
"My hobbies are running and eating pasta. I like making pasta from scratch. My family's Italian—we're very into that."
Leave a Comment
About the Contributor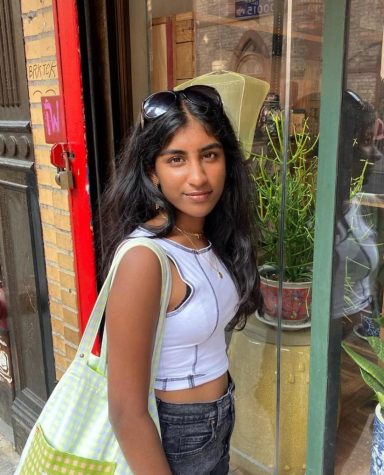 Seanna Sankar, Online Managing Editor
Seanna Sankar '24 is the current Online Managing Editor for the Polygon. She began as a staff writer for her freshman year, then as the Features Editor...