Poly Prepares for Freshman/Sophomore Play, "Snow Angel"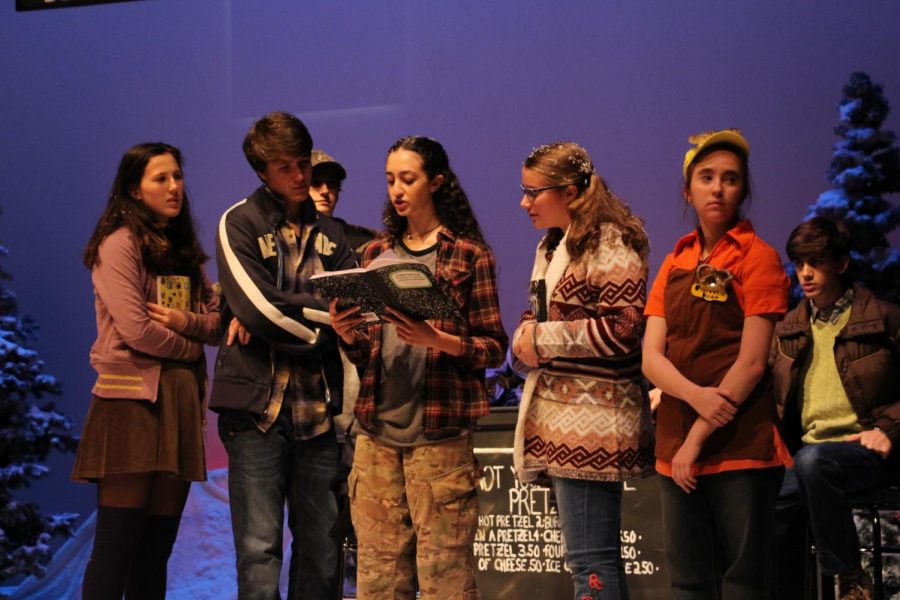 Melissa D'Alessio, Staff Writer
October 25, 2017
As October 27 approaches, Director Cynthia Babak and her cast of dedicated freshmen and sophomores continue working to prepare a production that will transport the Poly community to a snowy scene at a high school in Vermont. This is the first upper school play that the freshmen are able to participate in. The cast and crew have been working tirelessly to ensure a performance that will encourage the cast to contribute to Poly's future theatrical performances.
The performance is a rendition of Snow Angel written by David Lindsay-Abaire, the father of a current Poly junior. Snow Angel traces the story of a group of high school students who have been tasked with writing in journals for a school assignment over the course of four snow days. The majority of the play is expressed through these journal entries that trace the emotions of the characters as they encounter a strange girl out in the blizzard.
The cast feels that Snow Angel will be very relatable for the high school students at Poly. Sophomore Seamus Signorelli describes the play as "a perfect example of teen angst."
With their version of Snow Angel, the cast and crew hope to inspire deep thought in their audience as they consider the abstract elements of the play. The cast hopes to portray the character of the mysterious girl in a way that makes it unclear whether or not this girl is a figment of their imagination or is truly a real girl.
When discussing what she hopes the audience to take away from the play, Babak said, "I hope audiences take away a sense that some things are unknowable, and that's okay. People need their mysteries."
Throughout their time together, the cast has forged very close relationships with one another. Sophomore Molly O'Connor has participated in Poly's freshman/sophomore plays for two years. When describing her experience in her second play, she said, "It's really great to be working with some old friends and some really talented new faces."
Babak said of this cast, "I'm confident that the actors and crew will pull together to create a moving and fascinating evening for the audience. There's a lot of high emotion as a play draw close to performance; it's just a matter of channeling that energy towards our common goal!"
The actors have worked very hard together despite the difficulties posed due to a very short period of rehearsal time. In only a few months, the cast has been to ensure their show was the best it could possibly be.
Sophomore Seamus McNulty said, "The collection of actors makes this an interesting production."
The combination of diverse talents and actors will make the freshman/sophomore performance of Snow Angel an unforgettable and thought provoking experience for all of the Poly community.