Poly Invites Coalition of Immokalee Workers to Speak to Middle and Upper School Students
Other News Stories to Read
On a cold, blustery afternoon in February 2016, four Poly students joined thousands of demonstrators in Columbus Circle to protest against Wendy's refusal to comply with the Fair Food Code of Conduct, a law that would force the company to only buy tomatoes from ethical farms. The Coalition of Immokalee Workers (CIW), a group of farmworkers dedicated to achieving a livable wage and eradicating gender-based violence in the fields, organized the protest. History teacher and Director of Service Learning Elijah Sivin invited students to join in the march after hearing that many farmworkers in the coalition work in conditions akin to slavery.
"I was really impressed by their [the coalition's] strategic thinking, their world focus, and also that they seem to keep themselves out of elective politics," Sivin said. "They do a good job of keeping the focus on where it should be, which is these people's conditions and what can be done to improve them."
According to Student Action with Farmworkers, farm workers in the United States work for extremely low wages in hazardous conditions, with the average annual income for one farmworker being about $11,000. According to the United States Census Bureau, the federal poverty line for an individual is $12,082. Farm workers are often unable to receive proper health care because many are undocumented and do not qualify for federal welfare.
The group's efforts began with a campaign against Taco Bell, which eventually signed on to the Fair Food Act in 2005 after four years of protests. A decade later, this past October, the CIW and their allied organization, the Alliance for Fair Food, won a MacArthur Award. According to the MacArthur Foundation's website, the award gives "unrestricted fellowships to talented individuals who have shown extraordinary originality and dedication in their creative pursuits and a marked capacity for self-direction." Senior Ana Tessier, a student who attended the CIW protest in 2016, said that the organization changed her views on effective activism.
"The workers were persistent and resilient far after that initial protest," Tessier said. "With the right organization and mobilization, it is entirely possible to inspire even the biggest corporation to evolve."
On November 17, Sivin invited the CIW to Poly to present a lecture and pop-up museum to Middle and Upper School students. The coalition, which is based in Immokalee, Florida, continues to put pressure on Wendy's to comply with the code of conduct. Facing what they called the "most extreme form of modern-day slavery," their goal is to get growers to pay them one more cent per pound of tomatoes, since they are paid by amount rather than a stable, livable wage.
CIW member and farmworker Julia de la Cruz spoke alongside her translator, Patricia Cipollitti, who also works for the Alliance for Fair Food. De la Cruz and Cipollitti gave students background information on the organization and their successful campaign to boycott Taco Bell until they complied with the Fair Food Act.
Cipollitti said one of the biggest problems facing farm workers today is that corporations, not individual buyers, buy tomatoes in huge quantities, pushing down the price of each basket and lowering workers' wages. To demonstrate how many tomatoes need to be picked to earn money, Cipollitti and de la Cruz asked students to guess how much a basket of tomatoes weighs, which is around 32 lb.
The two women left students inspired to support the cause and advocate for higher standards of living for workers, whether they are immigrants or native-born citizens.
"At the end of the day, who is bearing the cost of the way that this industry is structured?" Cipollitti asked. "It's the farmworkers who aren't making very much and are having to suffer the consequences."
About the Contributor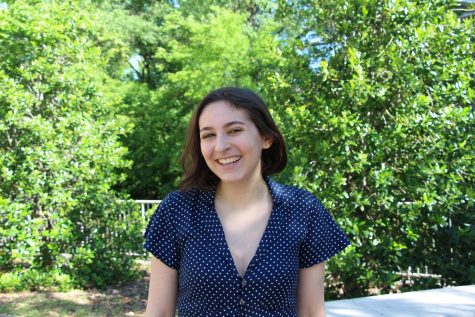 Liat Weinstein, Online Managing Editor
Liat Weinstein '18 is the Online Managing Editor of the Polygon this year. She joined the Polygon in the spring of her freshman year as the Photography...