Albert Cahn of CAIR Discusses American-Islamic Relations
Standing in front of a group of students on Wednesday, January 17, Albert Cahn told the haunting story of a case he worked on dealing with Islamophobia and religious discrimination. As the Legal Director for the Council on American-Islamic Relations (CAIR), Cahn represents victims of hate crimes whose cases are often disregarded or overlooked.  
"There was an individual who drives for Lyft and was brutally attacked while driving a fare in Long Island. The two attackers beat him, spit on him, called him horrific names and left him with neurological damage," Cahn recounted, casting his eyes toward the floor. "When the police initially got the case, they did not take it seriously. They said it was just an assault case and it languished for weeks. Within 24 hours of CAIR getting involved, we had detectives running DNA tests on the upholstery of the vehicle."
The talk was organized by history teacher Tyler Miller, who became interested in CAIR's work years ago when he learned about the organization's commitment to seeking justice for Muslims facing discrimination and hatred.
"CAIR's commitment to combating these immoral and illegal trends embodies the highest values of a democratic society in action," Miller said. "Mr. Cahn's comments and questions spurred the Poly community to think critically about who we are as a society and who we aspire to be. The status quo is not sufficient."
Cahn, who is Jewish and describes himself as an "ally" of the Muslim community, prefaced the talk by warning students that "this is not going to be an uplifting conversation." According to Cahn, anti-Muslim hate crimes rose by 500 percent in 2016 across the United States. On January 27, 2017, seven days after taking office, President Donald Trump signed an executive order banning entry into the United States from seven Muslim-majority nations, sparking nationwide protests. According to a Pew Research Center survey in 2017, assaults against Muslims exceeded 2001 levels in 2015 and 2016, with 75 percent of Muslim adults reporting that their communities face high rates of discrimination.
CAIR, which was founded in 1998, brings forth lawsuits on behalf of victims of anti-Muslim hate crimes so that they can sue their attackers. Cahn said that while the organization's goal is to seek out some level of justice for those who have faced discrimination, it is often difficult due to obstacles in the courts and in the justice system.
"Let me be clear: I come to this work with the belief that our criminal justice system is profoundly broken," Cahn said. "It's important that when members of marginalized communities are attacked, their crimes receive the same treatment that crimes against someone of my background do."
Cahn said that the normalization of anti-Muslim sentiment has made it more difficult to validate cases of hatred and discrimination. Junior Chloe Sun, who attended the discussion, said that Cahn's zeal for his work inspired her to keep fighting against Islamophobia and hate-fueled crimes.
"He demonstrated a passion for his work, recalling in depth a truly inspirational story about helping organize the Muslim ban protest and seeing, to his amazement, a major turnout of thousands of people," Sun said. "It reassured him that people do care, and that Muslims will always have people fighting for them."
About the Writer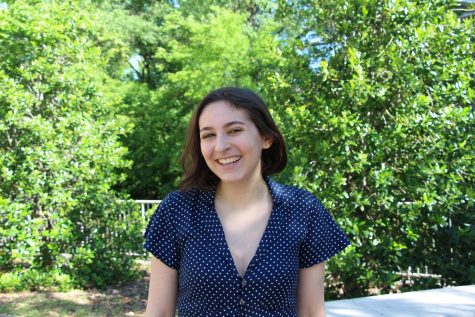 Liat Weinstein, Online Managing Editor
Liat Weinstein '18 is the Online Managing Editor of the Polygon this year. She joined the Polygon in the spring of her freshman year as the Photography...