Lift Every Voice and Sing: Poly Celebrates Black History Month
More News Stories to Read
Surrounded by a panel of fellow Poly alumni of color, Saadiah Fowlkes '93 spoke slowly into the microphone, recounting his experience as a black student at Poly to the Upper School during assembly on Friday, February 9.
"I inherited the legacy of black excellence that was left by Diahann and Dana [other panelists]," said Fowlkes, who is now a licensed real estate salesperson. "We were at a crossroads in many ways. We had our challenges, some of which were deeply entrenched in our society. But we were all part of the same community. We were part of fostering Poly's culture."
The assembly was hosted by Umoja, Poly's African-American affinity group. Fowlkes spoke alongside a panel of four other alumni who were invited by Runako Taylor, Upper School Dean and Umoja's club adviser, to speak about their years at Poly in celebration of Black History Month. Umoja members and juniors Talisha Ward, Jeovanna Deshong-Connor, Ota Ehue and Joe Moulton-Condiotti led the assembly, passing the microphone between each other as they asked each panelist a series of questions.
"Our inspiration stemmed from being able to acknowledge and give thanks to the people at Poly who came before us," Ward said. "They were the ones who made Umoja possible and it was really important to us that they knew we wanted to continue their legacy."
The panel consisted of Fowlkes, Dana Whitfield '90, Diahann Billings-Burford '90, Qadir Forbes '11 and Christine Croasdaile '13, all of whom worked actively to enact positive change in the Poly community while they were in high school. In the late 80s, Whitfield and Billings-Burford launched the Anti-Bias Coalition, which eventually transformed into Umoja.
When Whitfield and Billings-Burford were students, women had only been allowed to enroll at Poly for about a decade, and the class of 1990 only had eight students of color. As one of the first black women at Poly, Whitfield remembers feeling as if she and Billings-Burford were setting a precedent for the success of other black students to come.  
"When Diahann and I were here, there hadn't been many women," said Whitfield, who is now a practicing attorney. "We were the first black cheerleaders and Diahann was the first black woman to win the Poly Cup. We knew we were the minority."
Poly was much more diverse, both in terms of race and gender, when Forbes and Croasdaile were students, compared to the early 90s. Even so, Forbes and Croasdaile remember former President Barack Obama's election years as being a time of tension and excitement for the Poly community. Forbes said that there was a "sense of pride" among black students that made conversations about politics even more frequent and widened the gap between political opinions.
"Many black students came in wearing t-shirts and pins," Croasdaile said, recounting her experience as a senior at Poly when Obama was re-elected in 2012. Forbes said that the election brought about difficult discussions among members of the community, highlighting Poly's vast array of political leanings.
To close the assembly, members of Blue Notes, Poly's all-male acapella group, sang "Lift Every Voice and Sing," a song written by NAACP organizer James Weldon Johnson. It is now the official song of the NAACP.
"Facing the rising sun/of our new day begun," the song reads. "Let us march on till victory is won."
About the Contributor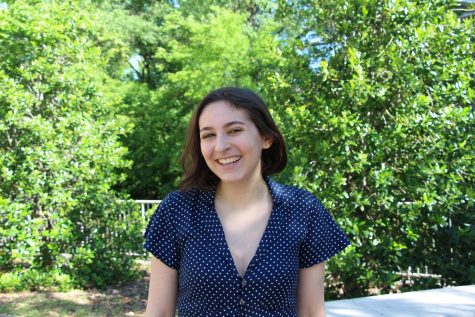 Liat Weinstein, Online Managing Editor
Liat Weinstein '18 is the Online Managing Editor of the Polygon this year. She joined the Polygon in the spring of her freshman year as the Photography...