Poly Students Volunteer at Cambodian Sister School
Cambodia holds a dark, violent past and a tragic history. It holds the story of a genocide, a communist regime, a bloodthirsty leader, and the murder of 3.5 million innocent people. Just a few decades ago, the Cambodian Communist party – the infamous Khmer Rouge led by Pol Pot – rose to power. Within the span of just three years, they managed to decimate half the population. Those of wealth or education were shot on sight, thousands were tortured, hundreds of thousands were forced to work, and millions died.
Forty years later, the effects of this regime are still very present. According to the World Bank, less than 1.4 percent of women receive any type of education after high school in the past decade, and the average income of its citizens is under $850 a year according to the Cambodian Daily.
From March 16-23, eight Poly students traveled to Cambodia to witness its endless beauty and teach in a rural school named the Poly Prep Mitapeap (Friendship) School. During our trip, students experienced both Cambodia's beauty and its recent troubled past. We visited the Genocide Museum, the S-21 prison, and the Killing Fields, where thousands were taken to be killed.
We also saw archaic ruins dating from hundreds of years ago proudly standing with the jungle slowly taking over. In Angkor, we saw trees climbing over the walls, creepers delicately falling over roofs, and leafy walls blocking passages. We gazed at the endless riches of palaces and admired the peaceful monasteries where Buddhist monks silently studied and meditated in deafening silence. Wherever we traveled, the people's incredible generosity shocked us. At the school, the kids' smiles were stretching their faces under the pounding sun, and laughter could always be heard through the crisp air.
Yet, despite its beauty, Cambodia still suffers. Massive poverty strikes its people, and basic needs are missing. Ten years ago, the Poly community took action and helped fund the Poly Prep Mitapeap School, enabling hundreds of kids to go to school. In the 2007-2008 academic year, Poly students raised more than 14,000 dollars which they donated to the World Assistance for Cambodia group, who built the school in an rural village.
Strong ties have been maintained with our sister school. Every other year, a group of students teaches there for a few days. Reflecting on her experience at the school, sophomore Michelle Kwan said she was in awe of the young students' curiosity.
"The students were eager to learn our language and see what we had in store for them, while we were amazed at how curious and quick they were to devour the knowledge," Kwan said. "Throughout the two weeks of spending every minute together, we became closer with one another, hearing new captivating stories and discovering new sides to their character."
Sophomore Veronica Meyer agreed with Kwan. "I really enjoyed volunteering at the school, and by the end, the language barrier was unimportant," Meyer said. "The kids also learned a lot of English, and we learned a little Khmer."
This was a fantastic trip which taught us much about Cambodia's history and beauty, where we got to teach and connect with more than a hundred children, and has enlightened many of us on the conditions of the children there and on all of the tremendous amount of work that's left to do.
History teacher Tim Shea, who accompanied us in the trip, also had positive things to say about his time in Cambodia.
"The trip to Cambodia left an indelible mark on all of us," Shea said. "I was overwhelmed by the responsibility that we have at Poly Prep to learn more about Cambodia, its education system and our role as donors to a school."
We went to Cambodia to teach, but after spending those few days with those amazing students, we were the ones who took a lesson of history, beauty, and generosity.
About the Contributor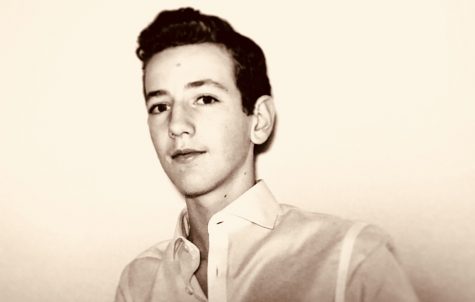 Nathan Darmon, Photography Editor
Nathan Darmon '21 is the current Photography Editor for the Polygon. He joined the Polygon near the end of his freshman year. At Poly, he's an eager...