Bui Meets the Poly World
After almost eight months at Poly Prep, Chief Operating Officer Hung Bui has become one of the most influential members of the administration and an important part of the community.
Before taking his current position, Bui worked at Bennington College in Vermont where he was the Dean of Admissions and Financial Aid. However, he did not always work in education. Instead, he began his career as a portfolio manager at Sterling Capital.
When asked about what prompted him to switch to a career in education management, he replied, "I wanted to be part of a community, not just a company."
Bui started work at Poly back in January of this year and has taken part in some major decisions on campus.
He has been instrumental in the changes to the bus system, as well as in altering the budget to better fit Poly's long-term goals, such as expanding Commons to accommodate student needs.
Working with Director of Technology Charles Polizano, Bui created a "back-end database" to handle scheduling, finances and tracking data. He has also worked closely with Head of Operations Matt Stelluto to create an updated electrical system.
In addition to working on the systems and procedures at Poly, Bui is an avid member of the community.
His colleague, Director of Annual Giving Lori Redell, said that their friendly relationship was built on their "mutual admiration for the Poly community."
His whole family is connected to Poly, with his wife, Amie Bui, a middle school dean and daughter attending the lower school.
He said, "One of the things that sets Poly apart [from other schools] is the diversity in spirit of the community. That is why I wanted to work here."
In their free time, the Bui family loves to travel, especially to Vietnam, Bui's birth place, and Japan.
He is excited to be living in a city once again, as he said, "Last night I took my bike out in Bay Ridge to get pho. You can't do that in a college town!"
Furthermore, Bui is an avid soccer and football fan who is looking forward to attending more games and will definitely be at Homecoming.
In the midst of what can seem like a turbulent set of months at Poly Prep in terms of day-to-day changes and staffing, Bui sets out to be someone that all students and faculty can depend on, with a kind persona and strong mind.
Head of School Audrius Barzdukas said, "Mr. Bui exudes competence. When you meet Mr. Bui, that's what you think! This guy is on it and that is a source for great relief."
One of Bui's main goals at Poly this year is to build stronger relationships with students and staff.
He said, "I want to be able to walk around campus and say 'hi' to students I know and ask them about their lives. That's one of the things that drew me to working at a high school."
His office is located in the admissions building on the top floor, and he can always be seen walking around Poly, working to improve the school as a whole.
About the Writer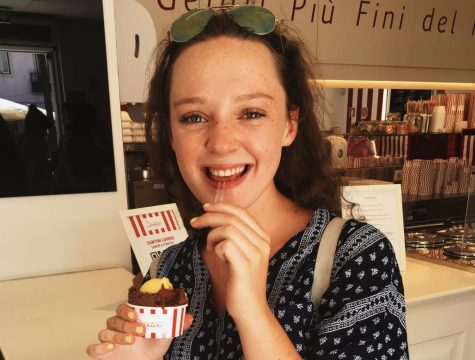 Lauren Clifford, Editor in Chief
Lauren Clifford '19 is currently the Editor in Chief of the Polygon. She spent her freshman and sophomore year writing for the Polygon and became the Layout...