History Department Hosts Panel in Honor of Constitution Day
In celebration of Constitution Day on September 17th, students and teachers gathered in room 108 to discuss the ramifications of the 14th amendment. The 14th amendment, added to the constitution in 1868, defines citizens as every person born or naturalized in the United States and forbids states from depriving citizens of their basic rights. Although it may seem like a relatively uncomplicated and unproblematic amendment, it has a great influence on immigration debates today. The panel, moderated by Chair of the History Department Michal Hershkovitz, featured three different history teachers with three drastically different opinions on what citizenship means and how the 14th amendment addresses it.
History Teacher Maggie Moslander started the discussion with her interpretation of the amendment, which is that despite its negative effects, it is essential to our country. She recognized that the 14th amendment is the root of the problem of family separation, but she believes that without it, people would still define borders in a less organized way, saying "people will categorize themselves no matter what."
By contrast, Alex Carter argued that the 14th amendment only serves a purpose if citizenship is fully enforced by the law. He cited voting restriction laws, saying there are many instances in which certain citizens do not have the same rights as others.
Lastly, Tyler Miller argued against the 14th amendment and borders entirely, saying "the concepts of citizenship and borders is a 17th century concept." He asserted that states are part of the problem because they limit free movement, which everyone, regardless of citizenship, has the right to.
After presenting their arguments, there was a Q&A lead by Hershkovitz, followed by questions by students. This segment was extremely valuable because it enabled students and teachers to delve deeper into each teacher's argument and formulate questions of their own. Carter was asked if he believed that the United States should enlarge the power of the 14th amendment, to which he replied that instead "we need a fundamental change in how these things are enforced."
Additionally, Junior Molly O'Connor asked Carter, "How does a country of origin affect the treatment of immigrants?" In response, Carter cited an incident in which authorities were called to a hospital after two women were heard speaking Spanish to each other. He explained that this situation would not have occurred if it was two women speaking with British accents.
Many students found Miller's argument to be especially interesting. Senior Lily Ezrow said, "I thought they all had good points. I really liked Mr. Miller's point about open borders but I don't know if I fully agree with it because I don't know if it is possible."
Overall, the seminar was a great opportunity for both students and teachers to learn more about our nation's constitution. Miller said, "I think it was a really great discussion with good points from all sides." Senior Simon Jordan said, "I thought it was really valuable to understand the nuances of the Constitution and what it means to be an American." This discussion enabled students to not only celebrate the 229th anniversary of our Constitution but also form their own opinions about the document.
About the Contributor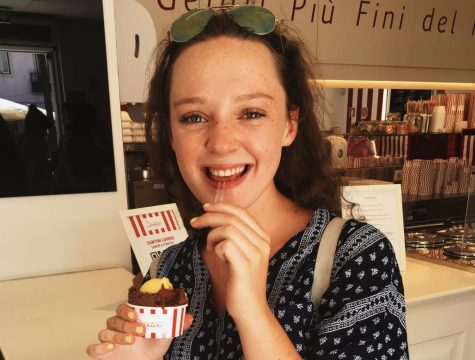 Lauren Clifford, Editor in Chief
Lauren Clifford '19 is currently the Editor in Chief of the Polygon. She spent her freshman and sophomore year writing for the Polygon and became the Layout...