Poly Hosts 8th Annual WISE Conference
Women in Science and Engineering Conference allows New York girls to explore careers in STEM
What is the best way to get wiser? Spend a day immersed in hands-on science workshops among other intelligent women! That is exactly what girls from all over the city, ranging from 5th to 12th grade, experienced on Sunday, November 11th, when they attended Poly's 8th annual event for Women in Science and Engineering, or W.I.S.E.
Every year, the event welcomes a different keynote speaker. This year Poly invited Nina Tandon, a biological engineer who is the CEO and founder of EpiBone, the first company growing living human bones for reconstruction. In her speech, she discussed how she became involved in engineering and also presented the research of other talented female engineers.
Additionally, she gave the girls crucial advice for their future: "Stay curious. Cultivate a sense of honesty. Be nice to each other. Acknowledge that time flies. One of the most important things in life is the people in our community," said Tandon.
Junior Jessie Rose said, "I thought it was a very immersive experience. The keynote speaker was enlightening; I especially liked how she spoke about science in regards to her other hobbies."
W.I.S.E was started by Upper School Dean Jamie Nestor and former Upper School science teacher Fleurette Turkenkopf. They saw the barrier and the need for girls to have more opportunities in the sciences, particularly engineering, and wanted them to be motivated by women who are already engineers. Now, W.I.S.E is led by math teachers Linda Russo and Samantha Bennett, as well as computer science teacher Jean Belford.
Russo said, "The energy was palpable, seeing everyone excited to be around educating these girls. I hope the day provides them a pathway to see some real-world applications and role models and to make connections because they exist and are out
there."
Tandon was not the only woman setting an example for the girls. There were countless other accomplished female scientists who attended as workshop leaders, including Poly science teachers Marie Corkhill, Debbie Van Ryn, and Shannon Comer as well as Poly alumni Emily Giurleo, Sonja Lindberg, and Nicole Karpf de Castillo.
They taught workshops ranging from coding "choose your own adventure" games, to learning to think like a computer, creating gadgets for your favorite food, making light up jewelry, building robots, solving a train scene mystery, and more. The workshops delved into STEAM (Science, Technology, Engineering, Arts, and Math) skills. After the workshops, the girls got a chance to ask these women any lingering questions they had during a Q & A session. Hopefully, the girls left with a better understanding of the engineering field and maybe even motivation to enter it themselves.
Belford summed up the day with some guidance for the girls.
She said, "Meet as many people as you possibly can. Put yourself out there. Ask for help from teachers. Reach out to your community, and make real-world connections. Do not think you are on your own."
About the Contributor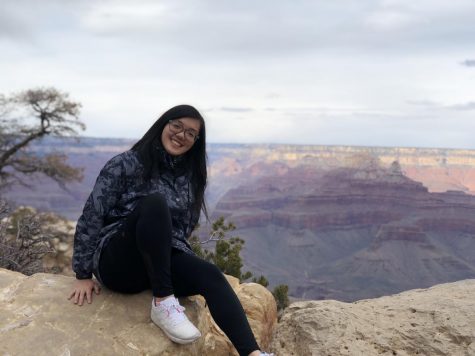 Michelle Kwan, News Editor
Michelle Kwan '20 is the current News Editor of the Polygon. She joined Polygon in her Sophomore year and was the Features Editor last year. At Poly, she...