Coffeehouse
Students performed in the library, showcasing a variety of unique talents
Poly's second Coffeehouse this year showcased singers, musicians, writers, stand-up comedians and jugglers, and also featured SLOP'EM, the student-run band. The event was held after school on January 17th, bringing the community together in the library to showcase students' talents, hobbies, and multidimensional lives outside of their school work. 
Coffeehouse was first introduced last February by English teacher Sarah Whalen, as
"an open mic series with super chill vibes," following the January blackface incident that put a tight strain on our community. 
"I want it to be a place where students feel seen, where they feel heard, and where they can come and support each other," said Whalen.
A year later, Coffeehouse has become a Poly tradition, celebrating students through the arts and maintaining a sense of community and spirit at our rapidly changing school.
"I think there's a really nice Coffeehouse community that has been created," Whalen said. "There are the frequent fliers– the people who come as audience members and the people who perform a lot. I think for those people, they feel seen and heard within [this community]."
This year's MCs were seniors Austin Somers and Olivia Wiener. Somers, who is also a member of the Coffeehouse board, said, "Hosting with Olivia is so much fun. I look forward to every single Coffeehouse night because the list of performers grows, and the acts get better and better!"
Junior Calliope Lissak frequently performs at Coffeehouse, showing off her juggling talent. "Coffeehouse has been a great addition to the Poly community. My juggling club and I love performing in front of the supportive and enthusiastic crowd," said Lissak.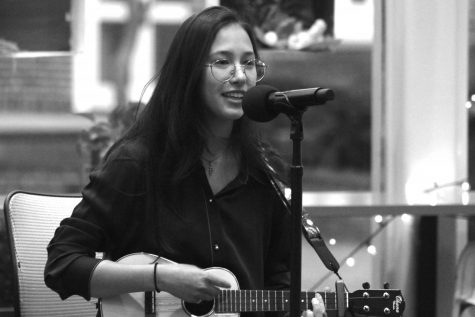 In addition to regular performers, this Coffeehouse also featured a lot of newcomers to the stage. Senior Seamus Signorelli said, "I was really nervous because I'd never been a part of Coffeehouse before, but when I stepped up to the podium I wasn't nervous at all. I had seen how people had reacted to others, and I just felt good about getting up there. Overall, it was one of the best experiences I've had at Poly."
Following the success of Coffeehouse thus far, Whalen has set more goals for the future.
"I think this could be expanded," she said. "It would be great if there was the opportunity for these students to be heard and seen by the entire Poly community– adults and kids alike."
However, Whalen said that a mandatory, all-school Coffeehouse would "defeat the purpose [of a] self-selected, sphere of community; I would just love for more people to get involved," she said.
The next Coffeehouse is scheduled to happen sometime in March, so for anyone interested in a humbling, supportive, and talented community, be on the look-out for announcements.  
Senior Chris Hadley said, "It's my favorite thing Poly does. It's the epitome of the creative spirit that students have. We don't always get a place to show it, so everyone who performs is so gracious and happy to be there. It's the best vibes, and everyone is the most supportive."
Leave a Comment
About the Contributor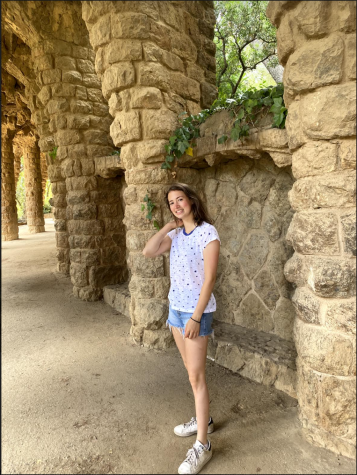 Emma Spring, Editor-in-Chief
Emma Spring '22 is currently an Editor-in-Chief of the Polygon. She began writing as a staff writer during her freshman year, became the Sports Editor...