26 Pebbles
An alumni play records the events of the Sandy Hook shooting
A star-studded cast of Poly students, alumni, parents, and teachers offered us their interpretation of the tragic Sandy Hook shooting through Poly's production of 26 Pebbles, directed by our Head of Arts Michael Robinson. This play, performed on the evening of January 27th, will undoubtedly move our community and inspire activism within it. 
On December 14th, 2012, 26 people, most of whom were children, were killed in a shooting at the Sandy Hook Elementary School in Newtown, Connecticut. It remains the second deadliest school shooting in our country's history. Eric Ulloa's 26 Pebbles was named for the 26 people who lost their lives. The playwright believes awareness of the shooting began to ripple throughout the country, like a pebble tossed in a pond, by way of broadcast news and social media. In fact, organizations like Sandy Hook Promise, which train students and adults to recognize the early signs of potential gun violence, surfaced after the tragic shooting. 
26 Pebbles no doubt reminded many audience members of Poly's recent production of The Laramie Project, which follows a similar non-traditional style of storytelling. Most actors played more than one character, as they shared their individual opinions and reactions by often breaking the fourth wall. The actors grounded the play by first describing Newtown as the beautiful and hospitable town that it is. As the play progresses, the characters reacted to the tragedy as they grapple with how to move forward. 
Director of Arts Outreach Robert Aberlin said, "The play demonstrates how a community can come together in the face of horror."
The play itself was a way to bring our own community together through its casting of Poly alumni and parents, according to Aberlin. The Poly Arts Department wanted to showcase the excess of talent in both our current and former students. Among the cast of 26 Pebbles were two Obie winners, one Tony winner, and one Tony nominee. Poly alumni greatly valued the opportunity to perform at their alma mater. 
Will Hochman '10, now a professional actor, said, "I got to do what I was too afraid to do in high school," as this was his first performance on the Poly stage. 
Eric Ulloa, the playwright, called 26 Pebbles a "play of necessity." Disappointed by the failed legislation and lack of collective pain and sensitivity, he traveled to Newtown to begin conducting interviews. Ulloa shared that Poly's production of the play was his first time performing in his own show, which he regarded as an "out-of-body experience." 
Ulloa also believes that the best way schools like Poly can help the cause is by studying the play itself and other literature that reckons with gun violence. In his opinion, it remains a relevant and prevailing issue that our generation should continue to discuss.
Leave a Comment
About the Contributor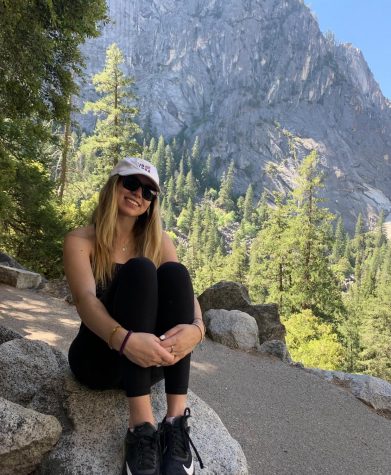 Carly Pyles, Editor-in-Chief
Carly Pyles '22 is the current Editor-in-Chief of the Polygon. She joined the staff during her sophomore year and became the Opinions Editor in her junior...