Black History Month: We Hold Our Future In Our Hands
Black History Month. A powerful time and the point at which we realize that we stand poised to pursue a prosperous future for ourselves. We presently stand at pivotal crossroads in this nation's history; it is now that we will determine our future and that of our burdened nation. 2020 marks 100 years of women's suffrage. 150 years ago, in 1870, black men won the vote. Those whom we celebrate during Black History Month were relentless pursuers of civil justice, economic reform, and equal opportunity. They fought to ensure that the world they lived in would work to implement inclusivity, tolerance, equality, and justice into society. Now it falls to us to continue the push for a more perfect union.
We have all the tools we need in our hands to seek an America that returns to the Enlightened ideals entrenched in its founding: a republic where all people are created equal guaranteed the right to life, liberty, and the pursuit of happiness, and granted the same opportunities to grow, prosper, and truly be happy. 2020 is our time to pick up the fervent torch of willpower and hope and move America to that goal that our founders laid out in the Constitution. During Black History Month, we are called to remember and pay tribute to those fighters, ranging from W.E.B. DuBois to Maya Angelou and are motivated to continue driving for monumental change. Those fighters used all the tools at their disposal and even helped create new vehicles for extending the fight. We currently have an armory of new tools at our disposal- books, social media, campaigns, movies, tv shows, podcasts, the right to vote, and access to a proper education. And here at Poly, we have been primed with the media with which we can lead this nation and the world into the world that those who preceded us had fought to create.
There are people who question why Black History Month exists and what purpose it serves for people. They neglect the fact that ever since the beginning of the first Black History Week in 1926, Black History Month has been intended to be a time for the nation to highlight black leaders, philosophers, and pioneers in each and every field and have them serve as motivation for black youth. The inspiration of young black people is more vital than ever, given the recent proliferation of white supremacy across the nation and a President who has sought to demean people of color. 
We have been devastated by this President and his rhetoric. Under this President's administration, we have seen racially inspired events such as the Charlottesville White Supremacy Rally in 2017 and the massacre at the Walmart in El Paso in 2019. These events have tested the strength of black people across this nation and 2020 is the year we push back against the harsh vitriol and condemn the corroding hate that this President has spewed onto the great American fabric, 
 Black History Month is teaching black people that those who came before us relentlessly endeavored for a better future and that it is up to us to pick up the torch of freedom and equity and continue the fight. Black History Month is our time to learn that, even though we have come very far, we still have not realized our ultimate dream— "that one day this nation will rise up and live out the true meaning of its creed: We hold these truths to be self-evident, that all men and women are created equal."
About the Writer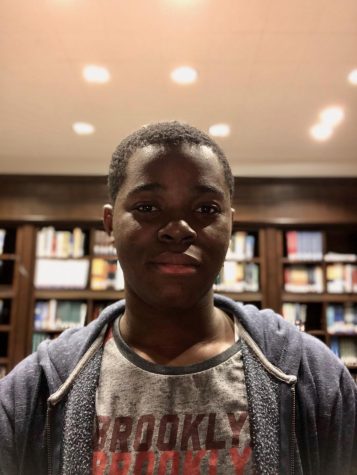 Ryantony Exuma, Staff Writer
Ryantony Exuma '22 started writing for the Polygon in his freshman year. At Poly, he is also a part of the Robotics Club, Programming Club, Debate, Student...