Lama Tenzin's Visit Takes on a New Meaning
Tenzin's mandala and his message of happiness and positivity are beacons of light in the midst of the coronavirus pandemic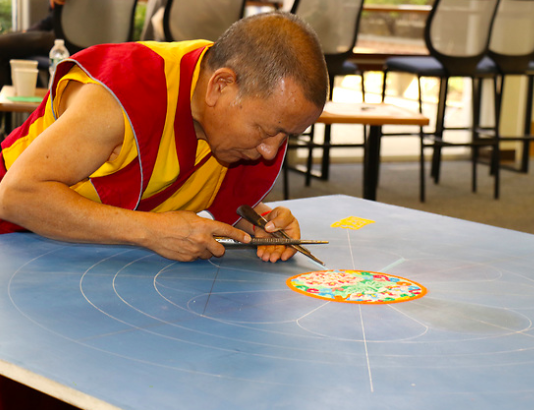 For a week, a Tibetan monk stood in the center of the Joseph Dana Allen Library painstakingly creating a traditional sand mandala. Lama Tenzin Yignyen visited Poly the week of March 9th, which happened to be our last week on campus, to educate our community in Buddhist values. Students, faculty, and other visitors from the community watched in awe as he turned an empty table into a work of art, only for it to be swept away days later. 
          Lama Tenzin is currently a professor of Tibetan Buddhism at Hobart and William Smith Colleges. Many students recognized him from previous visits to Poly's Lower School campus organized by Flavia Corsalini P'22, '26 and the Arts department. The Corsalini family generously hosted Lama Tenzin again so the Upper School students and faculty would also have the opportunity to hear his inspirational message. 
          In the midst of such unsettling times, many members of the Poly community have taken comfort in the words of our recent guest. Lama Tenzin spoke about the importance of educating the heart, not just the mind. In moments of distress, it proves to be even more important that we act with compassion. 
          When he was not talking with students or faculty, he was delicately working on his traditional sand mandala. Students observed his focus and precision as he immaculately arranged each grain of sand. 
          Lama Tenzin described his mandala as the Mandala of Infinite Compassion. It serves as a reminder that our innate human nature is something to strive for. 
          He said, "This mandala is a guide book to transform our suffering into happiness through changing negative emotions into positive emotions."
          At the end of the week, our community gathered in the library to see the completed mandala. Students from the middle and upper school, faculty, staff, and parents were all in attendance to hear Lama Tenzin's final words of wisdom to the Poly Prep community. 
          It was pertinent that Lama Tenzin sagely advised us to seek happiness within our hearts, rather than in material possessions. 
          Coordinator of Library Services Lisa Puleo said, "We were enormously grateful to have Lama Tenzin with us for a week in the library. So many members of our community from fifth grade students to seniors, faculty, and staff all came to watch, listen, and meditate. Each of them walking away with a little bit of wisdom and serenity. Lama Tenzin created a calming respite within the bustling and exciting world of Poly."
          Lama Tenzin's visit culminated in a traditional dismantling ceremony with a procession to the Poly  pond. He claimed the dismantling is one of the most important parts of the construction of the mandala because nothing lasts forever. This notion is something many community members now find themselves comforted by as they grapple with this global crisis. 
          "Lama Tenzin not only spoke to us about impermanence — the idea that nothing remains unchanged — but like a good teacher he used his mandala to show us the concept," said Upper School English teacher John Rearick.
          Events Manager Amy Schlansky, who helped coordinate his visit, added, "At the time of Lama Tenzin's visit, the coronavirus cases were escalating abroad and our school was just beginning to form contingency plans for the possibility that we wouldn't be able to return after Spring Break. During this time of uncertainty, Lama Tenzin provided us with moments of tranquility, beauty, and hope. His visit would also be one of the last times that we were together as a community."
About the Contributor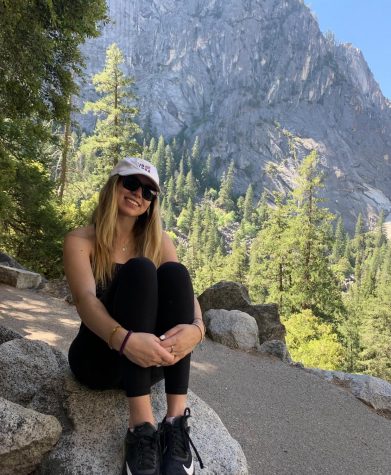 Carly Pyles, Editor-in-Chief
Carly Pyles '22 is the current Editor-in-Chief of the Polygon. She joined the staff during her sophomore year and became the Opinions Editor in her junior...