Protests Against Stay-at-Home Policy
As we are stuck in quarantine, most of us are turning to the news to find any signs that life will soon go back to normal. However, as we continue to watch the news,  it's evident that many people across the United States are protesting against these stay at home orders. These people are protesting because they have already or fear the possibility of losing their jobs and not being able to support themselves and their families financially. 
An example where this is most evident is in Michigan. Groups of armed protesters have been going to the State Capitol where they are targeting Governor Whitmer for extending stay at home orders. A group called Michigan United for Liberty has been taken down from Facebook after violating the social media platform's policy regarding the incitement of violence. Officials, such as Whitmer and Dr. Deborah Birx, member of the White House Coronavirus Task Force, have publicly responded to these protests. They emphasized that the protesters may be spreading the virus to their families after crowding in large groups at the State Capitol. 
It is understandable why these people are protesting, but they also need to consider that lifting the stay at home order will rapidly increase the cases and deaths of COVID-19. According to experts, when these numbers decrease, we will employ a four-phase plan to reopen New York. However, as the epicenter of the virus, this may take longer than we hope. In the interest of public health, I have chosen not to protest against the stay at home orders. 
Instead of protesting, there are several positive things that I am doing that we can all do during the quarantine. Whenever I am not attending my virtual classes or doing homework, I am keeping myself busy by practicing the flute and the piano. Even if you don't play an instrument, now is the perfect time to learn. 
Another thing that I have been doing is watching shows and movies with my family. Since we all have more time on our hands, watching shows with our families can not only help pass the time but also bring us closer together. 
During the quarantine, we can also join service groups to help donate masks, gloves, or food to first responders. This doesn't have to be limited only to hospital workers. We should support all essential workers, including firefighters, grocery store workers, sanitation workers, and food delivery people. 
Even though the media tends to leave us anxious, remember that there are many ways to stay positive during quarantine without putting yourself and others in danger of contracting the virus. 
Leave a Comment
About the Writer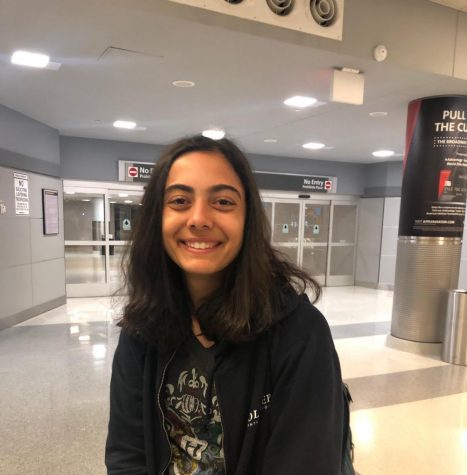 Samantha Rodino, Sports Editor
Samantha Rodino '22 is a Sports Editor for the Polygon. She joined the Polygon in her freshman year and became the Arts Editor in her junior year. She...