The Virtual Learning Option
While the pandemic has led to the use of tents and Poly's outdoor space, how are students who have chosen to go completely virtual faring?
As the school attempts to adapt to reopening in the midst of a pandemic, Poly has given families the option to either send their children to outdoor school or to stay at home and learn completely virtually. The coronavirus pandemic caused Poly Prep, and hundreds of other schools, to close campus for the safety of the faculty, staff and students. After several months, Poly reopened the school using a mix of in-person learning and virtual learning, offering the option of completely virtual learning for those who are immunocompromised or simply uncomfortable with returning to school due to risk of COVID-19. 
Poly's in-person learning system has led to a complete transformation of the back fields with tents erected for the Upper School. Each tent is labeled with a number that corresponds to classes listed on the students' schedules. Within each tent students are expected to set up camp chairs 6 feet away from each other to stay socially distant. 
Freshman Mary Howell said, "It's actually pretty easy to hear people talking and have discussions in class. To me, nothing has felt chaotic and it feels very organized and well put-together. There is the huge downside that there are no sports or after-school activities and I feel like when we do go back to the normal campus, it would seem weird (after not having been there for over a year)".
While many students agree that the experience of virtual learning has been a positive one, there is some fear that protocols are not being entirely adhered to by the whole student body.
 Senior Kayla Thompson said, "I definitely enjoy in-person learning because the quarantine proved how important it is for us to be in the school and not be isolated from one another. I believe that we have much more work to do when it comes to following guidelines, especially social distancing and I include myself. We need to take accountability for ourselves, because the administration and faculty members cannot do everything."
Freshman Sophia Chamorro echoed this sentiment saying, "Personally I think academically in person learning is going great. I think the teachers have done an amazing job trying to go back as much as possible to "normal" but also find new and creative ways to teach so far. Regarding the safety rules and regulations, people constantly are a lot closer than 6 feet whether that's sitting in the classroom tents or standing and socializing with friends.
Poly's virtual learning system has been a very different experience with virtual students currently making up a minority of the student body.
"Virtual Poly has been going well considering the circumstances. I think they're handling the situation very well and although I'd rather be on campus right now, the online classes aren't too bad," said Freshmen Nyjáh Harrison.
Freshman Clayton Ward said, "Virtual is a pretty cool experience, but there's not that much of a social aspect that's really there."
However, while many virtual students are grateful for the option to continue their education, many students often feel that they are left in the dark. Virtual students have complained about schedules being unorganized, missing classes, and school hours being extended.
Senior Gauri Purohit says, "Though I very much appreciate the administration offering a virtual option for those who are unable to attend Poly currently, I have found that myself and all of the other virtual students I know feel as though virtual poly is not the priority; there is a profound lack of communication between the administration and families of virtual students that has persisted since the end of August. The administration often states that it is running two schools, and we can all understand how difficult that may be, but often feels like we are running our schooling ourselves, scheduling classes we are supposed to have (but that aren't on our schedules) every week."
Most classes have combined virtual and in-person learning and although Poly faculty have tried their best to maneuver around these issues, language, math, and arts core classes are struggling with having in person students and online students on the same Zoom call. 
Leave a Comment
About the Writer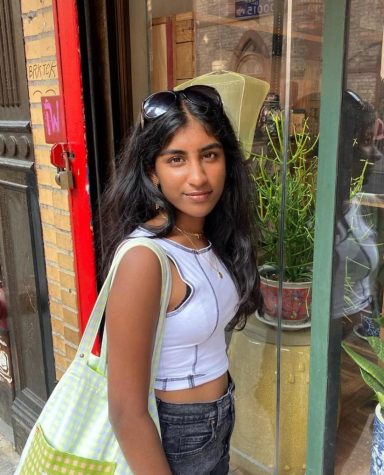 Seanna Sankar, Online Managing Editor
Seanna Sankar '24 is the current Online Managing Editor for the Polygon. She began as a staff writer for her freshman year, then as the Features Editor...