'I Dissent'
The life, legacy, and illegitimate replacement of Ruth Bader Ginsburg.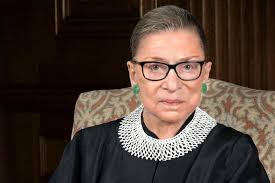 The late Supreme Court Justice Ruth Bader Ginsburg was the epitome of an unassuming hero. While small in stature, her contributions to American society were immeasurable. Ginsburg possessed the brilliance to interpret the law for a modern day America, the power to right the legal wrongs of our past, and the humility to do so in a just and honorable manner. Her death is truly a loss of great consequence for the American people. 
The groundbreaking nature of her career inspired countless women. Ginsburg was not only a trailblazer for gender equality, but she became a cultural icon for the youth. Her influence extended across multiple generations as she represented a country striving for progress. 
Ginsburg was born and raised in Brooklyn, where she attended James Madison High School. She graduated from Cornell University at the top of her class before pursuing a degree from Harvard Law School, as one of only nine women in her class. There, she remained at the top of her class and served on the Harvard Law Review, all while raising her young daughter and attending both her own and her husband's classes following his cancer diagnosis. She transferred to Columbia Law School for her final year after her husband accepted a job in New York. Ginsburg graduated in a tie for first in her class and became the first woman to serve on two major law reviews. 
A person of her astounding qualifications should have had countless doors open to her; however, Ginsburg struggled to find employment. In fact, every one of the 12 firms she interviewed for refused to offer her a job because they did not want to hire a female attorney. In Ginsburg's own words, "I was Jewish, a woman, and a mother. The first raised one eyebrow; the second, two; the third made me indubitably inadmissible."
Ginsburg began her legal career as a clerk before becoming the associate director of Columbia's Project on International Procedure. In 1963, Ginsburg was offered her first teaching position as a professor at Rutgers Law School, and in 1972, she returned yet again to Columbia Law School, where she would become the first female professor to earn tenure. Throughout this time, Ginsburg worked passionately to free both men and women from the gender roles to which they were bound. 
Ginsburg began working as a volunteer attorney with the ACLU where she notably co-wrote the brief for the Supreme Court case Reed v. Reed, arguing gender discrimination was in fact a violation of the Equal Protection Clause of the Fourteenth Amendment. This case was a defining aspect of her career, as she would later co-found the ACLU's Women's Rights Project in 1972. She argued numerous cases on sex-based discrimination and presented six before the United States Supreme Court – five of which she won. 
Ginsburg spent the remainder of her legal career as a judge. In 1980, President Jimmy Carter appointed her to the United States Court of Appeals for the District of Columbia Circuit, where she served for thirteen years. However, her life's work culminated in her historic nomination to the United States Supreme Court by President Bill Clinton in 1993; the Senate confirmed her with a near unanimous vote of 96-3. Ginsburg became only the second woman to ever serve on the highest court in the land. As a member of the Supreme Court, Ginsburg is not only known for her influential rulings, but her infamous dissenting opinions which have become the framework for future legislation. 
In her own words, "Dissents speak to a future age…the greatest dissents do become court opinions and gradually over time their views become the dominant view. So that's the dissenter's hope: that they are writing not for today, but for tomorrow." 
In tribute to RBG, I offer my dissent regarding her replacement. I would say that arguably the most distressing aspect of her passing is the overwhelming politicization of her death. Prior to Ginsburg's death, the court was already conservative-leaning, with a 5-4 majority. Trump's attempt to rush through Federal Judge Amy Coney Barrett's appointment will tilt the court further right for generations to come. 
Amy Coney Barrett is an especially ironic choice to replace Justice Ginsburg, as Barrett aims to repeal the progressive legislation she fought so fiercely for throughout her career. Barrett has made it abundantly clear that she will vote to overturn both Roe v. Wade and the Affordable Care Act. Unlike Ginsburg, who construed the law with respect to the present day, Barrett is an originalist. She believes that the Constitution must be interpreted exactly as it was understood by its creators in 1787. The difference between the two women is essentially the difference between looking forward and looking backward. 
Meanwhile, the Trump administration has demonstrated absolutely no decorum following Ginsburg's passing. Ginsburg's granddaughter recounted her dying wish as the following: "My most fervent wish is that I will not be replaced until a new president is installed." Not only has the president wasted no time in announcing a nominee to succeed her, but he claimed that the Democratic party fabricated the above statement. 
Senate Majority Leader Mitch McConnell has also displayed a blatant disregard for maintaining the integrity and nonpartisanship of the court. When Justice Antonin Scalia passed away in 2016, McConnell did not allow a senate hearing for President Obama's nominee. McConnell publicly justified this move by saying a president should not appoint a Supreme Court justice in an election year. Justice Scalia passed away 11 months prior to the 2016 election; Justice Ginsburg died a mere 46 days from this year's election. Barrett's appointment is in violation of the precedent McConnell set himself four years ago. The hypocrisy of this undertaking reveals the current Republican party's disregard for reason and equity; it is unlikely that enough Republican senators will defect and stand by their own precedent set by their own party.
President Trump has continuously insisted that voter fraud will influence the 2020 election, on account of mail-in ballots. He has repeatedly stated that he will not accept the results of the election if he loses. In fact, he recently responded to a reporter's question on the issue by saying, "Well, we're going to have to see what happens." Later, he said in no uncertain terms that if the election does not result in his favor, the Supreme Court will be involved. Trump's exact words were, "this scam that the Democrats are pulling — it's a scam — this scam will be before the United States Supreme Court. And I think having a 4-4 situation is not a good situation." 
It's not hard to deduce why the Trump administration is pushing through this appointment so quickly; if they lose the election, they want the court stacked in their favor. However, that is not in line with the purpose of the court or the definition of democracy. The Supreme Court was intended to be apolitical and fair. The Trump administration is undermining the legitimacy of the court by attempting to legislate from the bench what they cannot achieve in Congress. 
The unjust replacement of Justice Ginsburg not only opposes her dying wish, but disrespects her legacy. Ginsburg paved the way for countless women in her field. After she overcame numerous obstacles throughout her career, she worked tirelessly to change that reality for the women who would come after her. The current nominee will not work to do the same.
About the Writer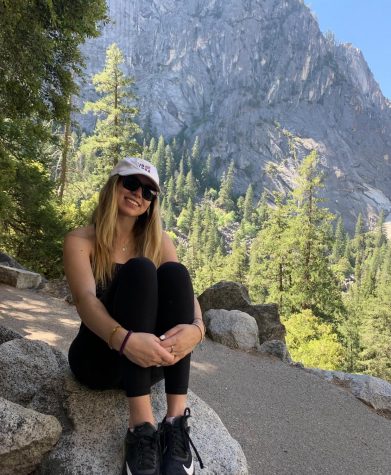 Carly Pyles, Editor-in-Chief
Carly Pyles '22 is the current Editor-in-Chief of the Polygon. She joined the staff during her sophomore year and became the Opinions Editor in her junior...