New Outdoor Dance Classes
Outdoor learning allows Poly students to continue dance classes on the back fields
As the Poly Prep community is adjusting to a new way of learning, creativity plays a major role in figuring out how we can make school as normal as possible while maintaining necessary safety protocols. While the transition into academic classes has been quite smooth, it is hard to say the same about dance classes.
 Due to the movement that takes place in dance classes, students are required to stay twelve feet apart rather than just six. Since the tents cannot accommodate the necessary space for all of the dancers, the classes have migrated to various spaces across campus in order to sustain such distance. 
Middle school dance teacher Ashley Hacker and Upper School dance teacher Danielle Bensky have been working strenuously to ensure that the dance atmosphere feels as normal as possible.
"We are utilizing a variety of sites around campus and are reinventing the way we structure learning our pieces," Bensky said. "We often have to pivot at a moment's notice due to outstanding circumstances such as wet ground, or a windy day." 
Seeing how their students deal with these challenges, Hacker and Bensky are greatly inspired by the willingness of their students. Ms. Hacker says, "I am so grateful to be part of such a robust arts community at Poly and am constantly striving to give our students meaningful experiences." Bensky said, "I am extremely proud of how quickly Poly dancers adapt. It's so nice to dance together again, even at 6-12 feet, and boost each other up with energy and joy." 
Dance classes at Poly have always been very hands-on; the teacher was always there to help fix students' form. Of course, it is now much harder to make accurate corrections over Zoom or even from twelve feet away. Senior Ella Barnett said, "I have never experienced a lot of classical training which makes me so fortunate to be offered ballet and modern days in school but without Ms. Bensky having the physical ability to help my placement and posture, I feel like I am just not getting the same level of instruction."
Another aspect that has been challenging is the lack of intimacy. Prior to the pandemic, the dance studio was utilized to create and perfect pieces before they are showcased. Now since the entire school can watch dance classes, the level of intimacy that had comforted the dancers is gone. Senior Alexa Nanfro said, "It's been hard to have to dance in front of all my other classmates because dancing requires a safe space for everyone to feel comfortable with making mistakes." 
Apart from these hardships, outdoor dance classes also serve as an opportunity to get inspired. Junior Madeline Doty said, "I think this is a new experience and we will learn a lot from it. I am excited to see where this very unusual year of dance will lead us. I believe that this will be a true challenge and we will learn new ways to collaborate." All of the dancers are nervous about what is to come, but they are sure that the journey will be meaningful.
The dance classes are currently working very hard to create pieces in a safe manner, and they cannot wait to share their work with everyone.
Leave a Comment
About the Contributor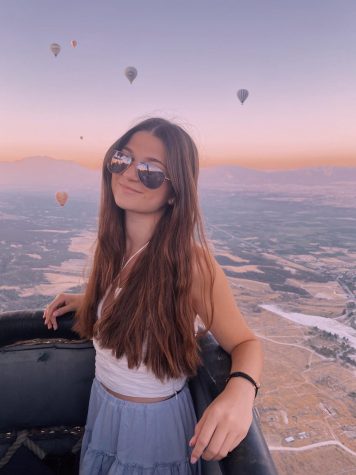 Brianna Khrakovsky, Arts Editor
Brianna Khrakovsky '22 is the current Arts Editor for the Polygon. This is her second year writing for the newspaper. Brianna is also a member of the Polyglot,...