A COVID-19 Holiday Season
Students adapt their usual holiday traditions to an unprecedented pandemic year
      Without a dinner table filled with family members or a packed legacy gym covered with festive decorations, this holiday season will most certainly be lonely and disheartening. 
     The holiday season is typically a time of togetherness, but the pandemic has forced another idyllic holiday to be celebrated safely in the confines of one's home, over Zoom, and without loved ones from out of town. 
     Freshman Levi Stein said, "Usually during the holidays, I visit my cousins in New Jersey, but because of the circumstances this year, I'll be celebrating with my immediate family to stay safe. Instead of being in person, we can see them over FaceTime and still laugh and celebrate together." 
     Similarly, Junior Scarlett Beard said, "Because of the virus my family has decided to stay home for the holidays. We might see a little extended family if everyone quarantines properly, but that probably won't happen. I'm upset, but safety always comes first. We must work together as a community to control this virus." 
     Lockdown has undoubtedly been an obstacle in communication and fun holiday events, but people have been finding ways to cope, staying optimistic.
     Senior Zoe Tzivas said, "Usually we host Christmas Day at my house and have the whole family over to exchange gifts and eat tons of food, but now it looks like it's just going to be me, my mom, and my dad this year. It might be a good thing though because instead of the chaos of running around to clean the whole house and prepare all the food, it'll just be a nice, low-key day to spend quality time with my parents. I think because of how stressful life is at the moment, a simple, peaceful day with family is the best way to celebrate the holidays."
     Poly's own celebration, an entertaining event before the beginning of Winter Break, will occur virtually. 
    Typically at Poly, the half-day would include performances by Harmonics, A Cappella, a teacher choir, and even a faculty band. Ugly sweater contests, a visit from Santa and his pet-elf, and, of course, a screaming rendition of "The 12 Days of Christmas" are some of past years' highlights and traditions.
     Virtually, the event included performances by the Harmonics, Blue Notes, Tower Singers, and Concert Choirs, as well as reflections by students and faculty on their holiday traditions.
     "While the assembly wasn't as amazing as it would be if it were in person, we made the most of it, and was the perfect replacement for one of my favorite Poly traditions," said junior Soph Cimmino. 
     Moreover, New York City is still hard at work to honor annual traditions. The Rockefeller Center Christmas Tree, after some leaf extensions to fix a tree that seemed like it was done with 2020 like most New Yorkers, is still on display, and the Times Square New Year's Eve ball drop will occur virtually. While it might not be the traditions most are used to, they will provide New Yorkers with reminders of joy and hope for the new year.
     Even after nine months, the worst of COVID seems to just be starting, still the spirit of the holiday season can still be found, virtually, in New York, and at home. Whether it's sitting at home with a warm cup of eggnog, or driving through the lights in Dyker Heights, the holidays can still happen safely. The frost across windows, the sweet smell of pine, the smoky comforting smell of blown out candles, the silver flash of tinsel, and the joyful sounds of "Jingle Bells" will all still exist, so relish the comforting senses of the holidays with the family around you.
Leave a Comment
About the Writer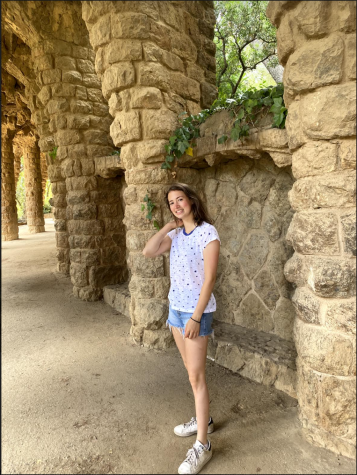 Emma Spring, Editor-in-Chief
Emma Spring '22 is currently an Editor-in-Chief of the Polygon. She began writing as a staff writer during her freshman year, became the Sports Editor...