Michael Robinson On The Red Carpet
Poly Arts Teacher Designs Piece for the Met Gala
This year at the Met Gala—an event for A-list celebrities some would call "fashion's biggest night out"—one of Poly Prep's own was a part of the magic. Michael Robinson, head of Poly's art department, was selected to design a piece for the ball that would be worn by president of Jujamcyn Theaters and Tony-winning producer Jordan Roth. 
This year, the theme "In America: A Lexicon of Fashion'' provoked many interpretations. While some wore classic American designers, others made a bold political statement. Roth wanted something filled with artistry that coupled with his identity seamlessly. The Met Gala exhibit explores identity through a patchwork quilt, and Robinson's design hit the mark. Robinson created a textile collage that covers the entire surface of the garment with a seven-foot train. 
Roth wanted to highlight how identity is expressed through fashion and what that means to him. The coat incorporated simple yet luxe materials, patchwork, images, text, and extensive embroidery and beading. 
Robinson described the piece like a peacock's tail. "On the one hand, when it's all spread out, you get to see all its feathers, but when it collapses, it's beautiful in its own way," he said. "A lot of text-based work at the gala had one statement, and no matter how you looked at it, there was one thing, but this piece was an invitation to look at it from different angles and question what's really here. We wanted it to feel like poetry and not a billboard." 
Robinson shared his favorite part of the garment: a patch depicting the profile of one of the Botticelli women. He embroidered her hair and sequined and beaded the patch. While later looking at a photo of Roth wearing the garment looking off to the side, Robinson noticed the patch was looking off the same way as Roth—the two were aligned. 
Robinson worked closely with Michael Philouze, the Vogue's Men's Editor, through the arduous proposal process and the nearly yearlong creation process. They initially connected through a Vogue Germany shoot, which featured a gown Robinson made. After seeing that one dress, the one photo, Robinson asked to be considered for the Met Gala commission. Though Robinson didn't think he would be chosen, he learned that Roth and Philouze knew it was going to be him from the first meeting. 
Throughout this experience, Robinson reflected on resisting the urge to design a 'typical Met Gala' while wanting to stay true to himself as an artist and an innovator. 
Robinson said, "Jordan would have to remind me and say, 'You know, that's not what we asked you for, you stay true to you. I want the best version there is, but if we wanted a fashion house to do our outfit, we would have hired them.'"
"The idea of speaking your truth and sharing your story, leaving you vulnerable to criticism and being misunderstood, is something that most people struggle with," Robinson said. "But staying true to your own identity and self-expression is what makes us as a collective unique."
Leave a Comment
About the Contributor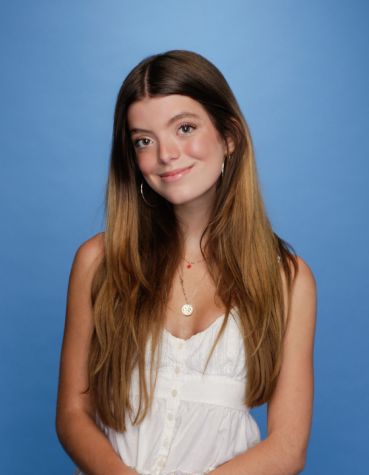 Sadie Schoenberger, Head Arts Editor
Sadie Schoenberger 25' is the current Arts Editor for Polygon. Aside from Polygon, she spends her time involving herself in the Arts- taking Dance, Advanced...