Poet Laureate Paolo Javier
Q&A Interview with New Upper School English Teacher
Paolo Javier, born in the Philippines is a new addition to the Poly community. After teaching at multiple universities and grade levels over the years, Javier now teaches in the Upper School. He also served as the Queens Poet Laureate, Program Director of Poets House, a literary nonprofit, and has dabbled in many aspects of humanities subjects. Below is an interview with Javier.
Where did you used to work?
"I worked as [the] Program Director for an organization called Poets House, which shut down because of the pandemic, unfortunately. It's a 30-year-old organization that is committed to providing a space for poetry to happen, and I was in charge of their programs—the workshops for education and the Emerging Poets Fellowship, which was unique. Prior to that, I was an educator for close to 20 years. I taught at a university and then I decided to go teach at a public school because I come from a family of public school teachers."
I know you are very active in the poetry community—could you speak a bit about that and how/where you got started? 
"It's definitely been my intense passion from high school [and] through adulthood, but, you know, I got turned on to poetry by listening to rap. I was in the Philippines [and] I discovered this album by Run D.M.C. called "Raising Hell." I just started making poems in the eighth grade…I didn't start really pursuing it seriously until college. It's something that bleeds into pretty much every other kind of artistic activity that I do, and it's something that I can't live without."
Did you make that connection to poetry by yourself or from an external source, like a teacher?
"No, it was really me…I performed my own rap in the fourth grade for an assignment that was due, and I just did it right on the spot because I was not being a very good student and preparing in advance. I just enjoyed it and I didn't know that you could do that with language before that. Though, my main obsession [was] comic books. My book that's coming out should drop anytime—it's about 20 years worth of work."
Why did you join the Poly community?
"I've never taught at an independent secondary school before, but I've taught in every other type of institution. There's so much more diversity at Poly. You hope for that as a teacher, but as someone who's taught in so many different capacities as an educator, it's not something that you can take for granted. It's not really what Poly can do for me, it's more like what I can do for Poly."
What are some ways you feel you will be a great addition to the Poly community?
"I think I can bring a more writerly perspective to students. My hope is that every student in my class sees themselves as a writer, and that they see the study of literature as a possibility for them to further express themselves critically and creatively, and not feel like it's a chore, [but] that being a writer is something that is available to them."
So far, what is your favorite part in teaching English at Poly?
"My colleagues in the English Department and, of course, getting to work with Poly's talented and dedicated students."
What is your favorite poem that you wrote and why?
"I tend to write serial and long poems, but of my shorter ones, I'd say the one I published as a broadside when I read at Center for Book Arts is a personal favorite. It's from my third full-length book, The Feeling Is Actual (Marsh Hawk Press, 2011). I'm proud of this book that embraces the language slippages of the bilingual immigrant AAPI and Pilipinx speakers despite the increasing xenophobia and scapegoating of the period that I made it."
Leave a Comment
About the Contributor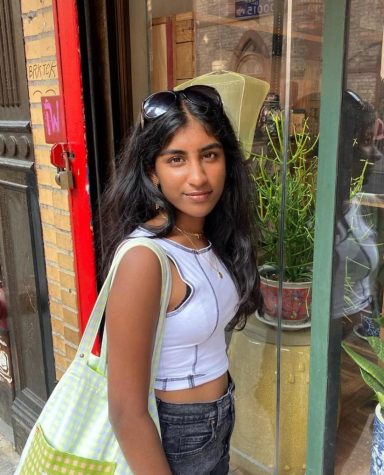 Seanna Sankar, Online Managing Editor
Seanna Sankar '24 is the current Online Managing Editor for the Polygon. She began as a staff writer for her freshman year, then as the Features Editor...