Adnan Gul: Poly's New Squash Coach Has Had an International Journey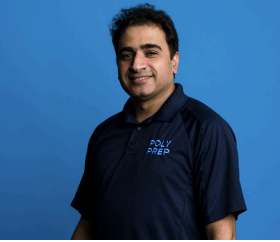 Poly's squash team gained a new coach this past fall, when Adnan Gul was welcomed into the Poly Athletics team. Coming from working at a tennis and squash club in Brooklyn Heights, Gul learned of the opportunity from a friend of his, Poly's former squash coach, Travis Judson, who left the school at the end of the 2021 school year. 
Growing up in Pakistan, Gul began playing squash at the age of seven. He was heavily influenced by a world-champion relative, Jansher Khan, and an older brother who had taken up the sport. Gul took to squash immediately with a passion that he still holds now. "I just love it, it's a great sport, it's the healthiest and the best sport in the world," he said. 
As a teen, Gul played with the Pakistan National Junior Team and by the time he was 20 years old, he began his career as a professional player. 
"In 2006, I went to Hong Kong to play a PSA (Professional Squash Association) match and then I went to Malaysia just for a visit. After one month or two months [Malaysia squash] saw that I could be good at coaching and they offered me a coaching position," said Gul.
Gul was only 21 when he began coaching, and after moving to the US in 2011, his career took him from Philadelphia to New York to Ohio and finally, back to New York, where he has lived in Westchester and commuted into the city every day for three years. As exhausting as this sounds and surely is, Gul put it best when he was asked about the commute: "If you like something, it's worth it." 
On December 8, Poly Varsity Squash played its first match with Gul at the wheel, taking an 8-0 victory against Horace Mann for a promising and exciting start to the season. Poly Squash has suffered numerous blows over the past few years, even before COVID hit, including multiple rounds of coaches and the loss of the girls' team due to lack of female players. 
However, pushing on with a strong new coach and a now co-ed team, players should be hopeful that the match on December 8th was a sign towards the continuation of the success Poly Squash has had in the past. Gul is already in the process of executing new ideas to improve and grow the program outside of regular team training schedules, starting with fully utilizing Poly's incredible facilities and making Poly Squash a larger community. 
Despite how different it is from his past jobs, Gul has really enjoyed his time here so far. "It's a good experience from clubs and national sites to come to school," Gul said. "I get to know more players who don't know me and I don't know them."
Suffice to say that Poly Squash is incredibly lucky that Gul found the school when he did.
Leave a Comment