Mile-High Adventures
Studying at Colorado's High Mountain Institute
As the wind rips through my four down puffy layers, I curl deeper into the cocoon of my below zero sleeping bag, while not losing focus on the voices of my peers. My heart is full, though my feet are throbbing in pain and my hands are cracking. Five months ago, I was stressed and anxious. Why, in the name of a city girl, did I decide to enroll in a wilderness school?! Yeah, I had done a few canoe trips here and there; I had gone hiking (more like a nature walk) with my family. But who did I think I was, leaving all my friends and family to up and go to a school in the middle of Colorado with 50 other high school students? 
It was one of the best decisions of my life.
The High Mountain Institute is similar to a college study abroad program, but for high school juniors or seniors from all over the United States and Europe. As stated on the HMI website, "students return to home schools invigorated about education, experienced in leadership, and more aware of the world around them." The education at HMI couldn't be more different from the one at Poly. As a fall student, I experienced three sections of on campus education and three wilderness expeditions that allowed me to flourish and challenge myself. A deep connection with the teachers opened me up to feel more comfortable reaching out, not just about academics, but also for advice in general. 
Students and teachers at HMI interact far more than in the traditional ways. HMI teachers are backpacking instructors, running partners, lunch buddies, and mentors. During my time at HMI, I engaged in three backingpacking trips. The first was a 16-day trip through the Mount Massive wilderness, during which our group of 10 students and three teachers focused on building a foundation of camping, risk management, and leadership skills. This trip began on my third day at HMI. I am not going to lie; it was terrifying. I was surrounded by strangers, hiking for miles a day, but I soon realized the uniqueness and value of this wild experience. 
On this trip, I was introduced to a HMI staple called "Circle." "Circle" is an evening ritual on expeditions where, under the stars, the group gathers to learn more about their peers. Each night begins with a spotlight: One person has one minute to tell their life story, two minutes of round-robin popcorn questions, and then it gets serious. Each circle member thinks of a deep question to ask the person in the spotlight. These could range from "what's an internal and external scar of yours?" to "what's a hard moment in your life that you are not grateful for?" 
At the cost of sounding cheesy, these questions really did work, allowing for a deeper understanding of my peers' and my teachers' lives. With each new spotlight came a greater sense of vulnerability, a stronger connection, respect that transferred onto campus after our first expedition, and the intense questions didn't end. 
After a month on campus, I joined a new group of peers and instructors taking on the canyons of Utah for my second expedition. There, I explored the beauty of the canyons in Cedar Mesa and took on more responsibilities. I knew virtually nothing about reading a map. Naively, I saw it as a bunch of rivers and mountains, not a path for me to hike. On the second expedition, navigation became a student's job: finding water sources, and investigating an entirely unique ecosystem. The instructors were there just to make sure you made it to the campsite by the six o'clock sunset. Thankfully, I don't have many horror stories from this expedition, but back on campus I heard about a group that went down the wrong canyon and had to walk an extra six miles once they realized the canyon walls were not matching the map. These mishaps are essential to the growth that ultimately allows for independent traveling and decision making on the third and final expedition. 
Students are given more autonomy as the semester progresses. With 11 other students, now friends, by my side, we earned this autonomy, learning wilderness first aid and becoming certified to travel independently of instructors. This allowed us to navigate and live on our own in the backcountry for 10 days. Our instructors traveled an hour behind us, checking in with a designated student leader every day. With our wilderness training, our strong communication around group goals and dynamics, we experienced something that many people don't have the chance to—successfully backpacking through the canyons of Jacobs Chair, Utah, on our own. 
The integration of our expedition learnings into the classroom is still astounding to me. Academics do not halt when leaving campus for an expedition. Instead, they are an integral part of the wilderness experience. All of the classes were place-based in nature; we participated in discussions and completed assignments that connected us to Colorado, Utah, and the American West. The faculty not only taught classes on campus but led the wilderness expeditions. As a result, teachers have the chance to mentor students in all settings of HMI: the classroom, the residential setting on campus, and the backcountry. This helped foster the connection that my peers and I hold so fondly with each of our teachers. They joined in on our late night circle meetings, sharing about their experiences and creating the trust that only comes with mutual respect and vulnerability. 
The uniqueness of the High Mountain Institute's backcountry expeditions is something that will always stay with me, introducing a love for nature and a different type of connection with my peers and teachers that will inform my future relationships. What makes it even more special is that my time there was finite, making each experience in the moment bounded by the surrounding mountains.
Leave a Comment
About the Contributor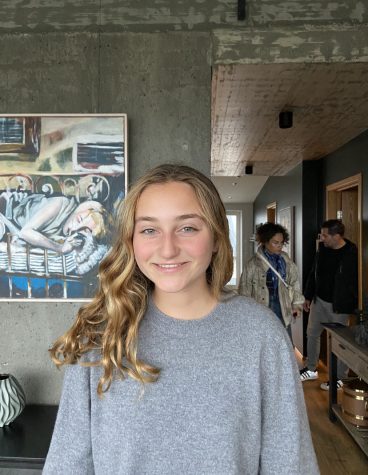 Lola Pitman, Opinions Editor
Lola Pitman is a current Opinions Editor of The Polygon. After previously being Managing Editor, she continues her work to encourage her peers on the Polygon...