Spring Break Post-Pandemic
For the past two spring breaks, traveling and socializing have been greatly limited due to the pandemic. So what are our students doing this spring break as the threat of COVID-19 has fallen substantially?
 Spring training trips for spring sports resumed, chock-full of team bonding and competitive games for many students. Girls' Lacrosse headed to Connecticut, while Boys' Lacrosse and Girls' Softball flew out to sunny Universal in Florida. 
Poly alumna Calliope Lissak '21 emphasized her adoration for the softball trip: "The Florida trip gave me the opportunity to bond with the team, specifically the upperclassmen and was a highlight of my sports experience at Poly." Senior Ella Carter said, "With such a young team getting some bonding time was vital, but none of us expected to get as close as we did in the five days we were together. We spent every second together and got closer as a team, and we're leaving Florida as friends and teammates." 
Similarly, many students took trips with their families and friends. A group of seniors headed to the Bahamas for some fun in the sun. Emma Cahill said, after much thought, "It was memorable." Many juniors, meanwhile, used this spring break to visit colleges.
With the mask mandate recently lifted, return from spring break may be a major COVID concern. The Washington Post reported in February, "'While the trajectory of the pandemic looks positive for spring at the moment, we know by now that this could still change,' says Lindsey Roeschke, a travel and hospitality analyst at Morning Consult. 'So protecting trips with insurance is advisable.'" Poly's COVID protocols post-spring break are as Sarah Bates commented, "Our covid policies will remain the same: mask optional, weekly testing on Sundays, and following the guidelines if you contract the virus or are a close contact to someone with covid. It seems as though we are on the other side of the pandemic but need to remain vigilant and attentive to protect ourselves and others."
Where did this tradition of spring break come from? Well, the arrival of spring has been celebrated throughout history. According to Mental Floss, the Ancient Greeks and Romans paid tribute to their respective gods of wine, Dionysus and Bacchus, in the spring. In 1928, Fort Lauderdale built their first Olympic-size swimming pool, attracting floods of the best college swimmers in the country during their break. Eventually, non-athletes began to follow this yearly migration for a break in the sun and soon enough the spring break phenomena of heading to Florida took root. Then in 1960, MGM released Where The Boys Are, which followed four college women on spring break, furthering how mainstream this event was becoming. Other cities also started welcoming "spring breakers" and the tradition became even more deeply ingrained in American culture. 
Many students hope the break will refuel them for the final push of the school year, specifically for finals and AP tests. Junior Bess Hort commented, "The few months in between spring break and summer are some of the most hectic months of Poly." Hort went on to say how "break is crucial as it gives us some rest which will energize and help us do our best for the rest of the year." Junior Emily Mansfield remarked, "I think a lot of juniors really need this spring break, especially this year, if anything, to get our sleep schedules back on track."
Leave a Comment
About the Writer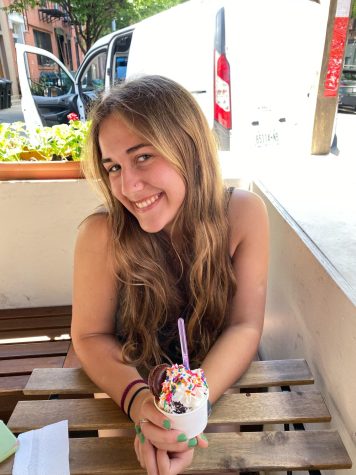 Alida Lissak, Head News Editor
Alida Lissak is the current Head News Editor for the Polygon. Starting her sophomore year, Alida has been a staff writer for the Polygon and last year...