Strike 3…Years of Normal Softball and Baseball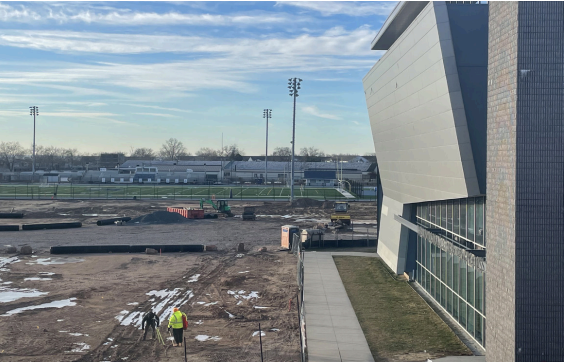 The first thing that comes to mind when one thinks of Poly is the 24-acre campus with ponds, animal life, and extensive sports fields. But when many seniors reflect back upon their high school years at Poly, they are more likely to attribute the backfields to time spent learning outdoors on lawn chairs with whiteboards, not necessarily the time they spent cheering on teammates. Because of the back field renovation, which started in September, every senior baseball and softball player will have had only one full and proper year of their sport in high school. (The reporter of this article is a member of the Poly Prep Softball Team.) 
A full year of spring sports typically means one with home-field games, NYSAIS championship brackets, no COVID restrictions, and a season that spans more than six weeks. Poly spring sports train from the first week of school in September through the end of May. They were lucky enough to have had a full season in 2019. However, after months of preparation, spring sports were quarantined in 2020 due to the outbreak of COVID-19. The fields upon school's return in autumn accommodated tents, and spring packed scrimmages within a period of six weeks. There was no championship to play for, and little to no on-campus games due to Poly's tight COVID protocols. 
This school year, Poly began bulldozing for the backfield renovation in September. The makeover, which will be named after Head Baseball Coach Matt Roventini, includes revamped baseball, soccer, and softball fields with stands, bullpens, press boxes, and dugouts, and potentially more football stands with a clear pathway to the street.  "In that regard," said senior and softball player Ella Carter, "I am happy for the future athletes that will get to enjoy this future renovation, but, selfishly, I wish my peers and I didn't have to bear the brunt of every inconvenience the past three years have brought."  
In an interview with the Polygon in November, Head of Athletics Richard Corso said he hoped the project was to be finished by April 1. Since the start of construction, however, with ripped up grass and piles of dirt, confidence that the fields would be completed in time for the spring season has dwindled as snow and ponds of rain started to occupy the construction zone. 
"We are beholden to the weather gods," said Head of School Audrius Barzdukas. "If the ground is frozen, you can't dig. If it's a big rain, you can't dig or lay things down. Our hopes and dreams are to have it open [come April], but if you have any influence on weather, exert it… there's a lot happening and it's got to happen somewhere."
Corso is still confident that the project will be done this spring. "I can't pin it down because of the weather. The majority of the work is underground because they had to lay pipes and level the land. You've got that beautiful piece of real estate, but you couldn't use it because it was six inches under water. Those days will be gone," said Corso. 
According to Corso, Poly's baseball field will be completed in time for the season, followed by the softball field. "In some form, we will have baseball out here [on the field] this year. It's hard to believe when you look out there. April 1, that's when we would like to do it. Once they put up the fencing, I believe the next thing is that they put out the turf. That will go quick[ly]…" The field will be officially opening on April 30. "[Softball] will be ready for the summer. They will be on the road for the whole season. They know that. We have another stadium for them down the street past [Fort Hamilton]," said Corso.  
Many baseball players are excited about the upgrade. Senior baseball player Warner Young said, "The [baseball] team is very excited for the renovation, and we believe the new facilities will only attract more players to Poly and further establish our program as one of the best on the east coast."
Senior baseball player Issey Gestel added, "The new field is a dedication to Coach Roventini's hard work and success for the Poly Prep Baseball program. We don't lose that much besides time on the field, but even then, Coach Roventini finds a way to get our work in to get ready for the season." 
Corso explained that the reason the baseball field will be completed first is that construction crew started from the street from the baseball field and moved inward toward the softball field. "We wanted to get all of the drainage and superstructure built here and then go this way. Softball knew that. They get it. They're just so excited for it to be ready for the fall," said Corso. 
Carter, the senior softball player, will not be able to play in the fall given her impending graduation from Poly. "Poly's complete and total disregard for the fact that the athletes affected by this renovation have had up to half of their high school seasons stripped of them as it is, is senseless," said Carter. "Every senior baseball and softball player has now only had the opportunity to play their freshman seasons. We won't have our senior days, live streams, or any of the other aspects of our seasons that we train all year for. All the fun weekend games and family Saturdays had been the highs of my Poly experience. Now we have corners of the turf, and trips to the fort to look forward to. It feels like a total disregard for our already tainted high school experiences."
Given the weather issues, the Polygon asked why the bulk of the project was not set for the summer, a period free from competitive sports, snow, and frozen conditions. Corso said, "[We] can't let the gift sit there. [We] wanna do it right away. [The] field's not going to get any better during the pandemic or after it. If we weren't doing it now, there would be six to eight inches of water out in left field. It was even worse for softball. The fields we've been able to secure for them now—their training field is at the fort and then we have a NYC softball field that's kept up pretty well. Now is the time." 
Barzdukas also mentioned the lack of time to get the fields done without any interruption of some sort. "It's been an open mud pit for way more than the eight weeks of summer. It isn't the kind of project that is going to be completed in two months. There's no way to avoid impacting a school year for a project of that scope…There's really no good time because you're looking at a campus that operates 12 months a year. This upcoming summer, we aren't going to have camp because of all the construction projects," said Barzdukas. 
The construction projects this summer, Barzdukas mentioned, include the impending arts center in addition to further construction on the fields. "I think that the way these things go is you can have the field laid down, but you still have to put in dugouts," said Barzdukas. 
Junior Summer Hornbeck, a member of the softball team, offered that while she is excited for the new fields, she expressed her frustration with year after year of setbacks. "Back at the beginning of the pandemic, spring sports were the only teams to have missed their season. I remember attending a total of two softball practices before going into quarantine. Similar to this, 2021 spring sports will also have their seasons interrupted yet again through additional complications. I was very excited to play again this year and even though I am extremely grateful for the new fields, it is sad to watch another year on our field go by," said Hornbeck.
The COVID pandemic has taught athletes around the world and at Poly to adapt to ever changing circumstances. Corso emphasized that the same mindset applies with the backfield renovation. He said, "The most important thing is you have a place to train, you have to pivot, and you go from there."
Leave a Comment
About the Contributor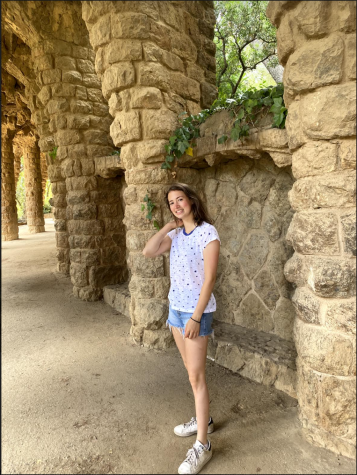 Emma Spring, Editor-in-Chief
Emma Spring '22 is currently an Editor-in-Chief of the Polygon. She began writing as a staff writer during her freshman year, became the Sports Editor...