Parenthood and Marriage in a Pandemic for Faculty at Poly
We all know our teachers pretty well, but what about their life outside of school? Who has gotten engaged during the pandemic? What was it like giving birth with a mask on? 
Up until a couple weeks ago, Middle School Spanish Teacher Kristin Ginty has been on maternity leave, as she recently had her second child during the pandemic. She had her first child in August of 2019. Although studies have shown that the first pregnancy is more difficult than the second, Ginty said ,"…giving birth during a pandemic, in a mask, was more challenging than in the first time around." 
Besides from her stressful birth, Ginty noted that the pandemic has brought some positive differences from her first childbirth experience. She said that the pandemic "has afforded [her] a lot of time to be with [her] children [and] spending that time at home." 
Ginty said that the time she spent with her two kids at home is mostly in Spanish. As a language teacher, Ginty wants to bring language into her home by raising her kids bilingual. She added that she wants to have those "touch points with them all the time" when bringing language into the home.
Overall, Ginty says that having children has made her a better and happier person because she is always thinking how she can help others. But she also believes that her teaching has improved as a teacher explaining that she wants her students to know, "they are being listened to, their needs and concerns are being met, and that I'm going to push them really hard because I know that they're capable of a lot."
Upper School Dean Douglas Wong, who has been working at Poly for five years, got engaged during the pandemic. Like many others', however, his plans were disrupted by the pandemic, specifically his engagement plans. 
Wong said he had his engagement all planned out and then "the pandemic happened and literally ruined those plans." He said that it had worked out after all, being that it was "something very simple and quiet." 
Wong says that not much has changed after being engaged except the fact that people are more invested in his relationship now. He also added that his feelings haven't changed much, however as "you get closer to [the wedding date] it gets a little more exciting."
A few more recent events in Poly faculty's lives have been present for Kyle Graham as he has had a daughter, Dylan Graham, on January 25, 2022. "We now have two daughters, Dylan and Darby. Darby is attending Poly this fall in the nursery class of 2037." Said Graham. David Reid also had a baby. "My wife gave birth on January 31, 2021 to our first baby, who is named Harris." Reid said "He brings us joy everyday!"
Leave a Comment
About the Writer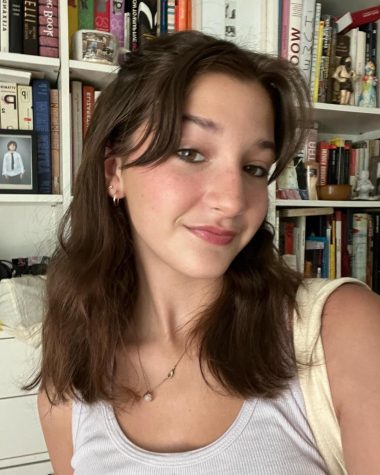 Lucy Goldberg, Deputy Arts Editor
Lucy wrote for the Polygon as a contributing writer in 8th grade and will be starting as one of the Arts Editors with Sadie Schoenberger. She also play...