Cutting the Ribbon
Poly hosted the Grand Opening of the new Matt Roventini Field on Saturday April 30, which coincided with its annual Reunion Day gathering. The day was jam-packed with food, activities, special guest-star appearances, and a home baseball game, which ended in a huge win for Poly. 
The construction process for the field commenced in September, with the baseball and soccer fields already completed, and the rest of the fields to be fully completed around August. For months, the space was nothing more than heaps of mud and ripped up grass. It was almost unimaginable that it would turn into a world-class athletic complex in just a few short months. The project includes renovated baseball, soccer, softball, and lacrosse fields, along with new bleachers, batting cages, bullpens, dugouts, press box, and scoreboard. 
The field project in its entirety is estimated to cost around $7 million, according to Head of School Audrius Barzdukas, and it will be funded entirely by donations. The construction began after a generous lead gift of $5 million from the Herbert Feinberg Family Foundation, represented by mother of four, three of which are at Poly, Tara Gordon Lipton and her mother, Sandi Feinberg. The school has now reached approximately $5.75 million in total donations for the project, and is still in the process of fundraising. 
Poly hosted a press conference on Thursday, April 28 to promote the Grand Opening Event. Head of School Audrius Barzdukas, Director of Athletics Richardo Corso, Head Baseball Coach Matt Roventini, Tara Lipton, and co-host of Fox 5's Good Day New York — where the press conference aired the next day — Rosanna Scotto were among those who spoke. 
Lipton shared the impact that athletics has had for her and her family on Thursday. "My family has also believed that sports has a unique way of bringing diverse skill sets together in a way that showcases hard work, athleticism, and dedication. We believe in the power of athletics to help kids reach their potential, along with helping to shape their character. Through the robust sports program at Poly Prep, the students learn the true meaning of teamwork, how to respect authority, how to respect one another, how to develop self-discipline, and so much more," said Lipton.
Lipton also spoke about her and her mother's decision to dedicate the field to Coach Matt Roventini, who has served as the Head Coach of Poly Prep's Baseball team for the last 18 years. They said they wanted to honor Roventini for his long and successful career at Poly, as well as his profound impact on the kids who play for him. 
"For many of the kids, just like my son Holden, Coach Roventini has been a mentor, a shrink, a friend, and truly a father-figure. His relentless patience, time, and effort with these kids has truly transformed my son's life and I know it's transformed many children's lives," said Lipton.
Roventini spoke to the truly substantial impact that the Lipton-Feinberg family's donation will have for the Poly community. 
He said, "We have a facility that's not matched by any in New York City. We had a game here last weekend, and there were 12 major league scouts here. The scout from the Padres said to me that we need to do events here. Major league baseball wants to do stuff here, and that says a lot."
The Grand Opening festivities began around 11 a.m. with family-fun activities and food trucks around campus. At 11:45, the pregame celebration kicked off with an introduction from Lucy Yang, a former Poly parent and reporter for Channel 7 Eyewitness News. She began by acknowledging the generous donors, Lipton and Feinberg, who made the project possible.
Yang briefly turned the microphone over to Anastasia Yaskova, Brooklyn Borough Director from the NYC Mayor's Office, to relay a brief congratulations from Mayor Eric Adams before the ribbon cutting ceremony. Baseball seniors Oliver Chung-Greco, Gio Colsante, Issey Gestel, Devan Kodali, Holden Lipton, and Warner Young were then asked to step onto the field to hold the ribbon. Barzdukas invited all of the donors, trustees, coaches, and baseball players to stand beside him as he dedicated the field to Roventini. 
As soon as the ribbon was cut, the field was cleared for a performance from Triple Grammy Award winner and founding member of the Fugees Wyclef Jean. The stands were electrified as everyone sang along and danced to Jean's renditions of "Maria Maria," "Sweetest Girl," and "Hips Don't Lie."
As the warm-ups came to a close, Yang invited former Congressman of New York's 11th District and Poly alum Max Rose to dedicate the singing of the national anthem to Herbert Feinberg, the late husband of Sandi Feinberg, Brooklynite, and lover of baseball, for whom the family foundation is named after. Rose introduced baseball players Dashiell Hort, George Thanopoulos, and Holden Lipton, Feinberg's grandson, to sing the national anthem. 
Before signing off, Yang announced Arnie Mascali, Vice Chair of the Board of Trustees and captain of Poly's 1984 baseball team, and John Franco, Mets All-Star pitcher and former Poly parent, who would be throwing out the first pitches of the game. At approximately 1:15 p.m., the game began. 
Poly faced off against Don Bosco Prep, a close match-up between New York and New Jersey's #1 teams. The stands were completely filled with students, faculty, parents, and alumni who cheered on the Blue Devils to an 8-2 victory against Don Bosco's Ironmen. 
 Meanwhile, Special Reunion happened simultaneously in the Oval, which included a full schedule of class photos, a barbecue, an arts showcase, and a memorial for the late Poly faculty member Gil Feldman. 
While it was not the original intention for the two events to coincide according to Keith Wiggs, director of major gifts, construction delays due to inclement weather pushed back the completion of the baseball field. Once the event's planning team learned of these delays, they agreed it made sense to hold the events on the same day, as the two would feed off of each other.
Wiggs said, "In the audience, there's a lot of crossover between alumni who are interested or participated in sports and alumni who are celebrating their reunion."
He also clarified that Poly intends to host more Opening Days or "Blue Devil Nights" for all of the other sports who are awaiting the completion of their fields. According to Wiggs, "they will be promoted the same way…and of course all of the teams will be involved in rededicating those spaces."
Saturday simply offered the first glimpse into what's in store for Poly athletics as a result of its new fields. The rest of the project will be completed by the fall for all students to use and enjoy. 
On Thursday during the press conference, Barzdukas highlighted the meaningful and long-lasting impact the field project will have for Poly. He said, "We are confident that these new fields are going to transform our program and our school for the next half-century."
Additional reporting by Emma Spring. 
Leave a Comment
About the Contributor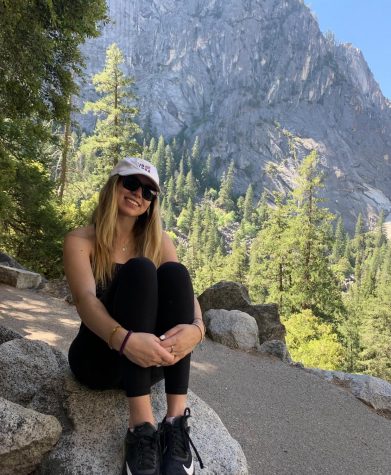 Carly Pyles, Editor-in-Chief
Carly Pyles '22 is the current Editor-in-Chief of the Polygon. She joined the staff during her sophomore year and became the Opinions Editor in her junior...