Music You Missed
This past year, concerts have started to re-enter our lives after the grueling time of. quarantining. There are many recent concerts that have had a large impact, and many exciting ones coming up. In December 2021, Jack Harlow performed at the Novo in Los Angeles for his That's What They All Say tour James Nicolaidis, a Poly 8th grader, had only positive things to say about this experience and being able to attend a concert again after a long time. "The environment was awesome," said Nicolaidis. "Even though it was smaller, the people had great energy."
In mid-February, an artist with a relatively smaller audience named Gracie Abrams performed in New York City at the Music Hall of Williamsburg. Although a small venue, she lit up the stage with active movements and a cheerful attitude. Celebrities, such as. Sabrina Carpenter and Camila Mendes, attended the show, posting their heartfelt reactions on their Instagram accounts. The stage was full of bright colors, all focusing on Abrams. Her debut album This Is What It Feels Like is composed of emotional songs with touching lyrics. Abrams did a great job of portraying these emotions on stage by sometimes reaching out to her audience energetically, and other times sitting down at her piano to play a sentimental melody.
In late February 2022, New Jersey's Prudential Cen- ter was booming with Billie Eilish's voice. Eilish has been touring her album Happier Than Ever all over the world since February 3. Her setlist for the tour began with her eerie song "bury a friend" and then "goodbye" topped it off perfectly. Her stage presence was full of charisma, making the show endlessly exciting. During her performance of "Oxytocin," she had the audience start low to the ground and then by the end of the song jump energetically. Her fans packed the arena with comical signs and phone flashlights, eager to see her energetic show. Eilish's performance of the highly anticipated song "Happier Than Ever" was eased into beside her brother, Finneas, with an acoustic guitar in his hand. But by the end of the song, she was literally screaming and reaching out to the audience. The performance came to an end with Eilish, her brother, and her drummer all sliding. down the stage, showing the amount of fun they had just experienced with each other.
Only two days after Billie Eilish's astounding performance, Radio City Music Hall filled with teenagers all there to see Clairo. Although an audience of fewer people, New York City greeted her with a warm welcome, singing the lyrics of her opener "Bambi," a calming song with descriptive lyrics. This tour was dedicated to her July 2021 album Sling, full of acoustic guitar, experimental production, and even her pet dog on the drums. Her set was filled with playful lights and nature-themed backgrounds. Wearing a beige blazer with light blue jeans, she lit up the stage with her warm smiles. Clairo went back and forth between playing the piano to the guitar. As glitter was pouring magically from the ceiling at the end of her performance, Clairo's eyes filled with tears playing her most popular song, "Sofia." She explained that this was her dream, performing in Radio City Music Hall, and as she walked offstage, her band celebrated their incredible performance.
Steering away from the mainstream music world, classical music has also been performed in many concerts. In Carnegie Hall, an ensemble featuring Michelle Stern happened in February of 2022. Poly Prep 8th grader Konatsu Iwai attended this concert because she knows Stern personally. Iwai greatly enjoyed the performance because she felt that the environment was well-maintained and classic, while still having room to enjoy the performance. "It was serious, but not too serious," she said.
Popular artists like Olivia Rodrigo and Lorde have start- ed touring, for their albums SOUR and Solar Power and people are excitedly awaiting to see them. Eve Harris, a Poly eighth grader, is seeing Lorde live at Radio City Music Hall in April. "I'm so excited because I love Lorde and I get to go with my friend," said Harris.
Leave a Comment
About the Writer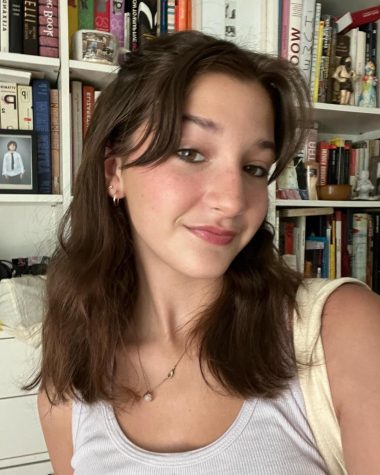 Lucy Goldberg, Deputy Arts Editor
Lucy wrote for the Polygon as a contributing writer in 8th grade and will be starting as one of the Arts Editors with Sadie Schoenberger. She also play...