Poly Undergoes Emergency Soft Lockdown During Subway Shooting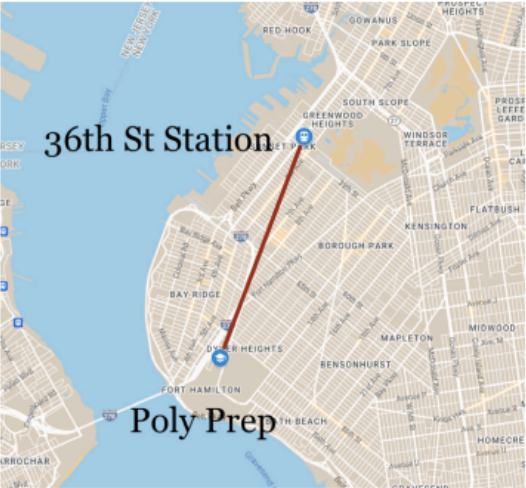 On Tuesday, April 12, amidst growing concerns regarding public safety in the subway system, a local Sunset Park station was rocked by a brutal shooting incident during the morning travel rush. On the N train, a man with a "heavy build, green construction vest and gray sweatshirt," as the New York Times described, set off a smoke bomb and opened fire on the car and platform, as the doors opened on 36th Street Station. The station filled with smoke, injured people, confusion and fear. Dozens of police flocked to the scene where at least 23 people were injured, ten from gunfire. Five were in critical condition, but, luckily, the injuries they sustained were said to be non-life threatening.
At 10:09 a.m., a campus safety notice was sent out by Vincent Rutuelo, director of safety and security, informing students of the soft lockdown being put in place. The Poly gates would be locked on both campuses, holding the students and faculty safely inside. Classes continued as usual, though a palpable apprehension settled amongst the community. Junior Emily Mansfield was sitting in the front of the school and was made to move by security but, she said, "Nothing else changed. No one talked about it: not teachers, not my friends, no one."
An hour or so later, the unharmonious ring of an Amber alert sounded through the halls, jolting students out of their daily routine. The alert recommended citizens steer clear of 5th through 3rd Avenue between 40th and 20th Street. Texts were sent and phone calls were placed to confirm the safety of friends and family in the area.
A massive search for the shooter continued throughout Tuesday and into Wednesday. A security camera at a nearby station that would have possibly been able to help with the investigation malfunctioned, giving the police noth- ing. They scoured Sunset Park and other Brooklyn neighborhoods for the culprit. The New York Police Department believe the man had come to New York in a U-Haul with Arizona plates, which the New York Times reported was found at 5:53 p.m. on Tuesday. Frank R. James was identified, as a suspect, due to items left behind on the train that found the police tracing the crime to him, such as keys to the van rented under his name. James was arrested in. the East Village on April 13. The suspect is facing possible life in prison due to the charge of a terrorist attack on mass transit.
Poly canceled all after-school activities to get students home safely, as soon as possible. Many students said that the journey home was, for the most part, eerily unaffected by the chaos our city underwent that morning. Junior Sasha Lifton-Lewis, who lives in Park Slope, commented, "There was no more traffic than usual coming home in the afternoon, since there often is a lot. I would say there was only about a 10-minute difference between this bus ride and our usual one."
Other high schoolers were not this fortunate: a freshman from Brooklyn Technical High School, John Butsikares, was on the first train that rushed into the station after the shooting, according to the New York Times. Another teenager was shot in the leg.
The New York Times reported that during the pandemic, there was a massive drop in daily riders on the subway. This number began to rise again, but recent violent incidents on the subway are sure to frighten New Yorkers. Random mass shootings have been a grim reality the younger generations have grown up with. Stricter gun control has been implemented in an attempt to stifle these tragedies, yet they continue to occur to this day.
Mayor Eric Adams, then quarantined with COVID-19, had been briefed on the shooting and was involved, as much as he could be, with the subsequent search, according to the New York Times. He brought President Biden up to speed, leading him to comment, "My wife Jill and I pray for those who are injured and all those touched by that trauma" and promised the government would not let up until the criminal was found.
Sarah Bates, head of Upper School, worked to ensure the safety of all our community members by triple-checking attendance, communicating in real time with everyone on campus and families of students, and offering rideshares and carpools to get students and faculty home, when buses weren't an option. Bates remarked the following day, "What happened yesterday in Sunset Park, two blocks from where I used to live and near many of our faculty and students, is abhorable. We can blame the person who did it, but we also have a responsibility to blame the system that allows this to happen over and over again."
Leave a Comment
About the Contributor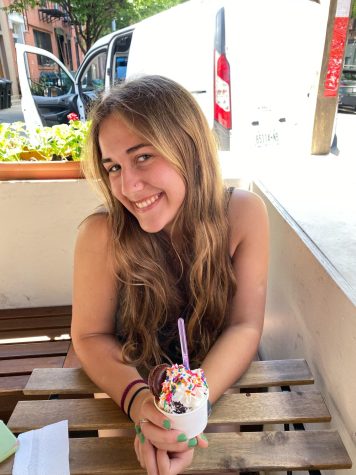 Alida Lissak, Head News Editor
Alida Lissak is the current Head News Editor for the Polygon. Starting her sophomore year, Alida has been a staff writer for the Polygon and last year...