Poly Lets Go of Long-Running Health Interns Program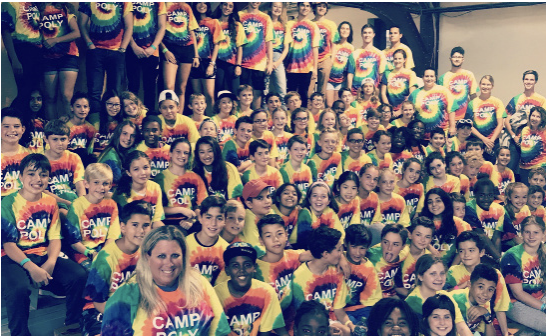 The heath intern program for Poly seniors ran for 34 years at Poly Prep before it ended this year in part because of a lack of senior desire for the program due to the challenges of COVID restrictions on engagement with the middle schoolers. 
The program was all about working together, said former faculty advisor Patti Tycenski, in which seniors would mentor and meet with middle school students once or twice a month.
Tycenski, who took over the health intern program in 1997, described the program as a "peer leadership program that worked specifically with 5th and 6th graders on health and community issues." The program met during assembly periods, as well as, in more recent years, during 5th and 6th grade meetings. "The 5th and 6th grade teachers were very supportive of the program and the middle school heads [allowed them to miss class] once or twice a month [to participate]," said Tycenski. 
During these meetings, Tycenski said, "they did everything from mini health lessons on smoking or nutrition or making friends or bullying." In addition, health interns were deeply involved in Breast Cancer Awareness Month, working with Tycenski to help create the iconic ribbon picture Poly students take part in yearly — however, were not able to take part in this year due to COVID, according to Tycenski.  Health interns also worked with other children outside of the Poly community, one time engaging with a lower income nursery school and daycare center. 
The program, as explained by Tycenski, "wasn't just about connecting kids with health ideas, but it was also the connection between the 5th graders and the 12th graders. In the sense of the 12th graders having leadership…And then the 5th and 6th graders having positive contact with the upper schoolers as role models and student leaders."
The program's selective nature made sure 5th and 6th graders had seniors to look up to. Tycenski explained that in order to become a health intern "you filled out an application, you talk about your experience working with younger kids…your thoughts about working in groups with a partner but also a group of people, and you listed all the classes you were gonna have for the year, and there was a teacher signature… and they sent me a paragraph about why they thought you would be good."
Tycenski thought the program "was great because it wasn't in a pressure situation. [For] the older kids, it wasn't like you were trying to best someone… It was all about working together in a team situation." Tycenski believes the program really brought kids together who would possibly never have had a class or sports experience with — an outlet for breaking away from the stresses of school life and just being able to bond with peers. 
Tycenski noted that many of the kids became lifelong friends and kept in touch with each other. "It was special for [the middle schoolers] too in the sense that they got to meet these older kids and hear about their lives and experiences in middle school, which can be a rough time and place and to realize that there are people out there who have gotten through it and really enjoyed it," she said.
Junior Eliza Manny said "I loved meeting with the health interns in 5th and 6th grade. It made me feel more welcome to the campus." Another junior, Nicole Bogdanos, shared her love for the program. "I have always loved the health intern program for connecting Poly's young newcomers to the seemingly big and scary —but once you got to know them, [they were] kind and welcoming — seniors," said Bogdanos.
However, the program began to crumble when COVID hit. Tycenski explained, "I had a group last year that worked with the 5th grade all year on Zoom meetings. The 6th grade they did not meet as much because the classes were larger and there were more students." 
This year was the first year the program fully disbanded. Tycenski explained, "I don't know the 'why.' I think with the new schedule there were more minutes but less time in the day [and] it became harder to schedule. And then I think with [a] new administration…the health and wellness director coming in last year…I found out at the end of the year that they were going to sort of reimagine what health interns was." 
Sarah Bates, the head of Upper School, wrote in an email to the Polygon,  "[the] program had low enrollment coming out of the pandemic school years, as I don't think students had the opportunity to see/experience what the [health intern] program could be given that the Middle School was in pods and we were all socially distanced for the school year." She also noted, "during registration for this school year, only 3 students had registered for the course."   
"The program was not ended so much as it was put on hold," Bates wrote. "I would love to see the program revived to think creatively about how we can intentionally make these connections, rather than just have the classes scheduled at the same time." 
Bates wrote that she also hopes "to see deep connections to our Health and Well-being department, including development of curriculum for the Middle School students; work with our athletic trainers, including CPR-certifications; and a more formalized internship structure where experts in health-related fields are working directly with our students."
Leave a Comment