Recycling Update: 'A Schoolwide Buy-In' is a 'Key Factor' to Reduce Cross-Contamination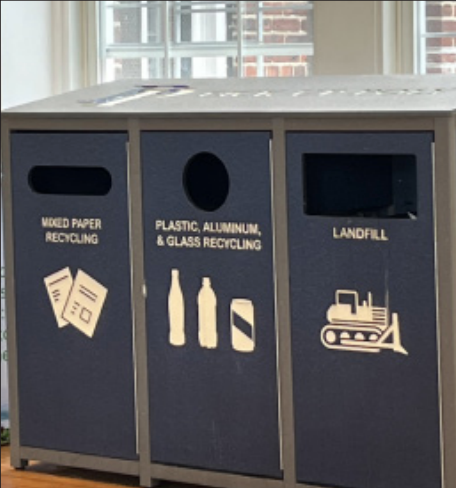 During the COVID-19 pandemic, Poly Prep was forced to cease full campus recycling operations, a pause that continued into the fall of 2021. At the end of the 2022 school year, obstacles that prevent a full and consistent recycling and composting schedule remain. According to the City of New York Department of Sanitation (DSNY) institutions cannot recycle contaminated bins, and Head of Operations Matt Stelluto sustains that bin contamination largely hinders Poly's ability to recycle most glass, plastic, and compost on a consistent schedule. Stelluto noted in a recent email to The Polygon, "A school wide [buy-in] to sort waste in their proper containers is a key factor in recycling effectively." Cardboard recycling, according to Stelluto, has maintained its regular pickup schedule of three times per week, and non-contaminated plastic also continues to be recycled.
Elijah Sivin, Director of Service Learning, Hannah Crowley, a junior and incoming leader of the Environmental Justice Club, and Stelluto emphasized the importance of not contaminating waste streams in order for recycling to be successful. If someone, for example, were to pour a drink into a paper recycling bin instead of a trash can, that entire bin is now contaminated. Contaminated bins either need to be sorted to decontaminate the trash or must be thrown away entirely as their contents are not recoverable.
Sivin emphasized the expensive nature of sorting for maintenance: "There has to be enough resources from the administration to allow maintenance workers the time to do this. Those men and women are already working probably harder than anyone else in the building, and so it's not really fair to ask them to do this other really significant task on top of that." DSNY avoids sorting as well, Sivin noted, simply throwing contaminated streams into the landfill, which is harmful to the environment and can sometimes lead to a self-fulfilling prophecy of not recycling.
The pressure to sort falls largely upon our community's 1,200 members, for which recycling can be confusing. Sivin notes that Re:Dish, our school's reusable food container initiative, has been successful because of how easy it is to put a single container in a box made just for it. This is in stark contrast to the intricacies of sorting trash, plastics and metal, paper, and compost; for example, you can recycle hard plastics but not soft plastics. Sivin has found it hard to send proper messaging about the complex sorting process to the community due to non-academic periods such as dean cohort meetings being cut from the schedule, making it harder to send community-wide messages. 
Community members like history teacher AJ Blandford have been working to encourage recycling within their sectors of Poly. Blandford wrote in an email to The Polygon, "I made a few posters, I guilt trip my students 😉, and I try to speak up when I see an easy and friendly way to remind everyone about easy ways we can use less like bringing a water bottle and coffee mug instead of using paper cups."
Poly faculty and students shared advice for effective recycling. "Recycling is hard, but that's no excuse to not try," Sivin emphasized. Jared Winston, director of student life, encourages community members to recycle at home to practice good habits that can then be brought to campus. Blandford asks community members to "use and consume less" and "think about the small adjustments they …might be able to make to both recycle more." Crowley asks students to only sort if they have the time: "The best course of action is obviously to take the time to sort your waste into the correct bins, but if you're in a rush and don't have time, the next best thing is to just put your waste in the landfill bins."
Recycling is not a switch that the school can turn on or off, but a complex pipeline. The COVID-19 pandemic rocked the once-solid foundations of various institutions, forcing them to prioritize other systems over recycling. On top of that, sorting, a crucial part of the recycling process, is a logistical challenge for students, faculty, maintenance, and DSNY alike, requiring due diligence and time at risk of increasing waste because of bin contamination. Finally, helping students and faculty understand recycling better is challenging, as Sivin shared, due to there being limited time to instruct.
Additional reporting by Maerose Daniels