From Tobago to Track and Field
A profile of Jase Franklyn, and how he found his way through an injury to becoming a track and field coach here at Poly Prep.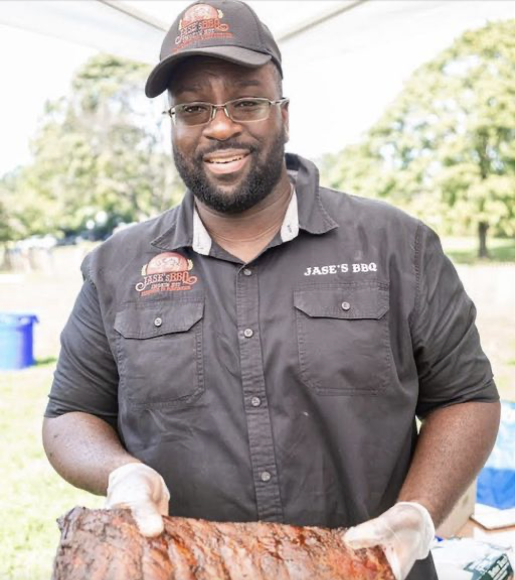 An excerpt of this profile was originally published in the February issue of The Polygon.
On the outskirts of New York City lies a high school, Poly Prep. At the back fields of the school a track and field practice commences under the dark skies of a December night, brightly lit up by large spotlights looming over the field. There, Jase Franklyn coaches a group of high school students, subtly making adjustments to each throw they make. Under the glare of the overhead lights, he has a large stature, and he is almost always seen wearing a baseball cap. Athletics have always been a part of Franklyn's life, a life that has led him to Poly Prep in hopes of creating and expanding a successful throwing program.
Growing up in the nation of Trinidad and Tobago, Franklyn's family lived in a private home along an unpaved street lined with many different kinds of mango trees. At the start of the main road to Scarborough, the pavement overflowed onto his side street, creating the perfect spot for a cricket pitch. There in the side streets of Tobago is where Franklyn's life of sports began.
"I played a lot of sports, from soccer to tennis to basketball," said Franklyn. At one point he even did a clinic with a group of people from the US in hopes of being able to pursue basketball. Being one of the standout individuals at the clinic they asked Franklyn's mother if they could bring Franklyn back to the US for basketball. Though, due to a lack of information, Franklyn's parents didn't agree to the offer.
In 2003, Franklyn came to the United States, "It was just to go to college, get a degree, get a job…" he said. While this was his initial intention, Franklyn found an interest in track and field, specifically the hammer throw.
"In Trinidad and Tobago we mostly did shot put, discus, javelin, nobody really did the hammer throwing event so it was pretty new to me, it was actually fun to me, but I never actually had a coach to coach me in that event," said Franklyn. With no one to guide him in improving his distance, he started doing his own research. After countless hours of practice, he was one of the best, helping his team at Lehman College win three championships. "I always pride myself on trial and error, I have no problem doing that," said Franklyn. Being one of the best he even held the record for the hammer throw of Trinidad and Tobago for some time, something he was very proud of.
"While practicing at The Armory, on my release instead of turning my feet, I didn't turn my feet and I turned and tore my meniscus…" said Franklyn, effectively taking him out of competition for months. Given two options, either surgery or rehab, he chose rehab in hopes of getting back to what he loved to do. While eventually getting back to competing after three months, disappointingly he could never get back to his previous distances.
He is still an avid fan of many sports today, from the Premier League to Formula One, with Chelsea and Mclaren being his favorite teams respectively.
"I figured that if I couldn't pursue my dream I could help someone else pursue their dream. That's why I got into coaching," said Franklyn. First becoming an assistant coach at Kingsborough Community College, he eventually went to LIU Brooklyn in 2013. There, he met Richard James, who was also a track and field coach at LIU Brooklyn at that time.
"I always remember this day, this huge man showed up in my office asking about the weight room, and basically blocked the sunlight but at the same time brought so much sunlight into the room with his personality," said James. He went on to say that something that stood out about Franklyn was how he could take athletes who did not know their capabilities and turn them into national level athletes. One of his athletes at LIU Brooklyn came to him throwing twelve meters and finished at almost sixteen meters, an impressive feat for a college level athlete.
But in 2018, he needed a change of scenery. He had his car packed ready to move to Texas. At the last minute, James called him asking if he wanted to coach high school kids here at Poly Prep, remembering how successful of a coach he was at LIU Brooklyn. Franklyn's first response was, "Why are you calling me?", but James convinced him to come on campus to meet Richard Corso, the head of athletics at Poly. Now he is the track and field coach, specialized in throwing events, and the assistant coach of girls varsity soccer.
"He is one of the best people I know at Poly. He will take his shirt off his back for you. He wants everyone to succeed, he wants the program to succeed. His laugh is contagious, the second he laughs it makes you laugh," said Jill Wojcik, assistant strength and conditioning coach, on her opinion of Franklyn.
Another significant part of Franklyn's life is his barbeque business outside of his day job. "That started when I was a little child back in Tobago, my mom would also barbeque on Christmas, New Years, stuff like that. We also barbecued for the family. When I moved here I have an uncle in New Jersey, he loves to barbecue too, that just made it even easier. We just kept doing it… for the 19 years I've been living here I've been doing barbecue. In 2017 I decided to just make it a business and see where it could take me." said Franklyn. So far the business has won five competitions, most recently for Bad to the Bone and People's Choice Award at Pig Island NYC ™ 2021 this September. Jase said how winning those competitions was, "actually very impressive", and wishes he started his barbeque business earlier as it is something he is proud of.
It has also become something the people around him enjoy, with both James and Wojcik having positive things to say about his barbeque. James recalled, "… about six years ago. I heard that he was cooking and I just wanted to go try it out and I tried it out and enjoyed it, I have been hooked on it ever since,". Franklyn even brought his barbeque to Poly Prep's Homecoming and Friday Night Lights this fall. This was a welcomed combination of sports and barbeque, both of which Franklyn enjoys.
Initially only planning to stay for a year, Franklyn has been at Poly for just about three years now. Here at Poly Prep, he has made a significant impact on many people, with everyone who knows him commenting on his kindness and the joy he brings to the room. Franklyn has become a special part of the Poly community. Now sitting in his small glass enclosed office in the corner of the Novogratz squash space, Franklyn says, "In general, I am just a person who likes to help people. Regardless of what, I will give you my last dollar if I have to. That's just me."
Leave a Comment