New Bagels Continue This Year's Changing Array of Snacks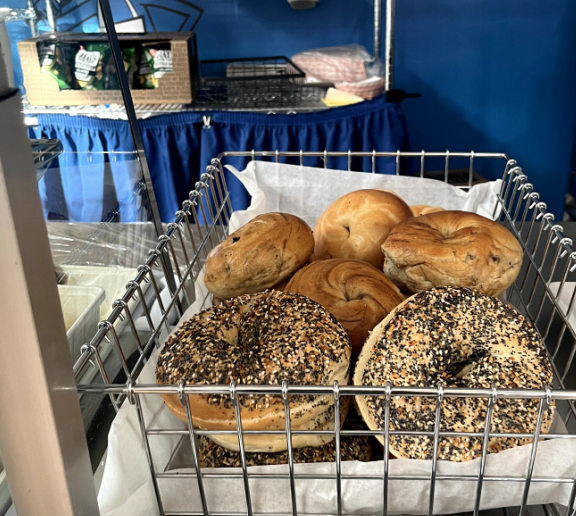 The new bagels at Blue Devil Deli are Poly's most recent implementation of "Brooklyn" in students' day-to-day life.Since the beginning of this school year, Poly's food options have seen various changes. There have been more food trucks at school-wide events, different kinds of after school food, the Blue Devil Deli, Table 87 pizza, and most recently, the new bagels. The people behind this operation refer to themselves as the Office of Fun and Engagement. This group consists of Assistant Head of School in Strategic Initiatives Rebekah Sollitto, Director of Student Life Jared Winston, Sports Information Director Bill McNally, and Math Teacher Danielle Rauch.  
Winston said that one day Head of School Audrius Barzdukas approached him and said "we have Table 87 pizza here on campus. When I think of Brooklyn I don't just think of the great pizza, I also think of bagels. We should have bagels on campus."Working with the team in Commons, and primarily Sollitto and McNally, Winston communicated with Bagel Boy in Bay Ridge in order to "deliver quality bagels for our students and faculty to enjoy," said Winston. These bagels are now offered for purchase in the Blue Devil Deli. 
Poly has been trying to integrate aspects of the "Brooklyn" part of the mantra through Brooklyn-based businesses such as Table 87, Hal's New York, Farmer's Fridge, and now Bagel Boy. These Brooklyn-based businesses are being used to expand the variety of food available to students. "I didn't want students to feel stuck. We have to change this because this is all we ever have. So I figured if I could keep mixing it up and keep changing it, the students would never feel like they were stuck," said Head Chef Louis Rossini. 
Unlike years in the past, where Commons or the vending machines was the sole and primary location for students to eat, there is now the Blue Devil Deli and sections within Commons where new food options are available for purchase from companies outside of school. "Table 87 [and Bagel Boy] came from… trying to give the students [the best] and treat them like important, empowered people… in a college, you have these different stations. I was [trying to] incorporate that," said Rossini.  
Freshman Hutch Karp said that the new bagels help him "get through the day" now that he is able to have "a hot fresh bagel for breakfast… It's a great incorporation to the food system here at Poly," said Karp. Freshman Dimitri Magdo-Krieger has had a similar experience with the new bagels. When asked what his favorite bagel was, he said that they "are all great" but if he had to choose one "it has to be the traditional plain bagel."