New York Times Staff Writer Emily Bazelon Inspires Poly Journalists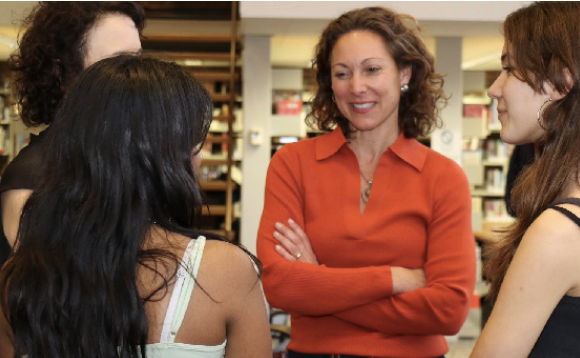 Renowned journalist Emily Bazelon visited the Upper School campus for a panel on her journalism career, writing process, and some of her most popular pieces on Wednesday, February 15. Held in the library, the panel was split into two sections: a discussion from 2:30 to 3:35 intended for Rachael Allen's Upper School Advanced Journalism class (but open for all), who prepared questions and studied Bazelon's work prior to the visit, and a continued discussion from 3:40 to 4:30 about her New York Times feature piece titled "The Problem of Free Speech in an Age of Disinformation." Seats set up in the library were filled, and many even took seats along the floor as the discussion attracted many students and faculty who stopped by during a free period.
Maité Iracheta, a World Languages faculty member who was able to stop by for about 10-15 minutes, said "it was encouraging for me to see students in action at the opportunity to ask questions to a serious journalist who's committed to women's rights and learn from her experience."
Bazelon, current staff writer for New York Times Magazine, graduated from Yale College in 1993 where she was the managing editor of The New Journal, Yale's student-run magazine that publishes investigative journalism and creative nonfiction. She then attended Yale Law School. Despite her father being an attorney, two of her three sisters being lawyers, and her grandfather being David L. Bazelon, a former judge on the United States Court of Appeal for the District of Columbia Circuit, it was during law school when Bazelon realized that she didn't want to become a lawyer. To be sure, Bazelon explained that she had even spent six weeks at a law firm and then decided it was not the path for her. 
Bazelon was a writer and senior editor at Slate Magazine for nine years before joining the New York Times Magazine, where she still writes today. Aside from this, Bazelon lectures at Yale, is a Senior Research Scholar in Law at Yale, and co-hosts Slate's weekly podcast "Political Gabfest." Bazelon also authored the New York Times bestselling book, "Charged," which zooms in on the power a prosecutor holds as the primary factor for the mass incarceration crisis, and national bestselling book "Sticks and Stones," about bullying in today's school climate. Bazelon's writing focuses on law, justice, women, and family issues.
Both portions of the discussion with Bazelon were moderated by Allen's Journalism and Advanced Journalism students.
Part I: Advanced Journalism Visit
The first part of Bazelon's visit was moderated by Advanced Journalism students Senior Jesse Cavaliero and Junior Charlotte Roberts. The pair structured the discussion in a Q&A style based on three groups the class was split into, each representing one of Bazelon's pieces: Charged, "Free Speech", and "Abortion."
Starting off with general questions about Bazelon's present life, students wondered what a typical day looked like for Bazelon. She explained that her day-to-day life is ever changing, but more or less involves juggling things like making phone calls, recording her podcast, NYT reporting, and more.
Cavaliero and Roberts transitioned the panel into discussing Bazelon's book Charged, which follows the stories of two young people fighting against the criminal justice system in gun court. The students in the Charged group read a NYT review of Charged as well as the first episode of Bazelon's podcast inspired by the book.
The Office of Juvenile Justice and Delinquency Prevention explains that gun court is "a type of problem-solving court that intervenes with youths who have committed first time, nonviolent gun offenses that have not resulted in serious physical injury." Junior Noah Yaffe, curious about Bazelon's experience in gun court, asked how long it took to actually find this story. For Bazelon, the tricky thing about reporting in gun court was that "it was like watching the grass grow." Criminal justice journalism, Bazelon said, is a very risky field because it requires a lot of time and patience, and even then Bazelon could not be sure that all of this would add up to something. Bazelon continued, "I had to follow other people, partly as an insurance policy, because I didn't know how this case would work out," said Bazelon. She continued, "Nothing had clear meaning until the end."
Though she went to law school, Bazelon said, "[being a lawyer] wasn't about telling stories and talking to people about their lives. That was really what I wanted to do." She didn't know it at the time, but law school enabled Bazelon to "have the confidence to do the work [she] does now." It taught her how to decipher legal documents and read court cases, which now helps her reporting.
The second group read Bazelon's New York Times feature article on free speech,"The Problem of Free Speech in an Age of Disinformation", where she presented that in the United States, where citizens' rights to free speech are protected by the First Amendment, there is a crisis of misinformation spreading with no repercussions. This is especially the case with social media's role in spreading information; she used examples like the spread of fake news around the Trump administration and COVID-19.
This group was most curious about the structure of the article and the possible backlash it received. To this, Bazelon responded that it is "important to accept the criticism but not let it get to your head."
The final group read an article titled "Risking Everything to Offer Abortions Across State Lines" which discussed the struggles of illegal abortion in America through the story of a physician who herself got an abortion and used that experience to help others.
Students in this group asked about how Bazelon was able to get such intricate and personal stories from her sources. She explained that setting boundaries with her interviewees is crucial to maintaining a professional distance, however "intimacy is what makes reporting good," said Bazelon.
After this section, Bazelon took questions from the audience and offered advice. Layout Editor for the Polygon, student moderator, and Advanced Journalism student Charlotte Roberts said, "Personally, I appreciated how Ms. Bazelon opened up about her initial struggles with confidence as a student journalist. As a student journalist myself, I sometimes find that I have doubts about my work, and it was helpful to hear that someone as successful as Ms. Bazelon has also experienced that."
"How do you want your stories to impact the world?" someone asked. "I want my stories to make people think," said Bazelon. "I want to get in your head." 
Bazelon's advice to prospective journalists was to "[get] other people to say the things you are interested in. The goal is to get the reader to come to their own conclusions. This way, writers are not "shoving their opinions down other people's throats," and avoid editorializing, Bazelon explained.
This is especially useful when reporting on a community you are a part of, like Poly. Bazelon explained that first, it is important to acknowledge that school journalism is a hard task. You need to "start by getting the facts and asking hard questions," said Bazelon, "[and] think whether it hurts others or shines a negative light on someone in the community."
The conversation then shifted toward op-eds, which the Advanced Journalism class is currently studying. Bazelon's biggest piece of advice was to "make sure your opinion[s] [are] grounded in facts." 
"It's not an easy work, but it's incredibly rewarding," said Bazelon.
Part II: Free Speech Panel
As the group thinned with the departure of the four o'clock bus, Cavaliero and Roberts stepped down as moderators, and Juniors Aerin Genatt and Eleanor Brown, and Senior Sammy Agate took over as moderators for this portion of the discussion.
This time, the conversation began with a brief introduction of Bazelon's free speech article, followed by a series of in-depth questions from moderators about the article.
Bazelon discussed how the intention of free speech gets twisted in definition. "[Free speech] is not informing, educating, or elucidating a debate, it actually warps it," she said. 
In the case of social media platforms, they are not restricted to the few constraints in the first amendment, which says that the government cannot punish hate speech, but the first amendment doesn't specify that a platform like Facebook can't. 
Bazelon used the analogy of a mall to further this idea. She explained that when you walk into a mall, there are mall cops and the rules of being on this private property is different from public property. You can get thrown out for yelling in a mall whereas,if you were to yell on the street the police cannot arrest you for it.
"Social media environments are the same way," said Bazelon, "you agree to abide by their rules." Corporations have power to make their own rules in spaces they control. 
In an interview with Bazelon after the panel concluded, she said her favorite parts were the student's questions and "hearing what [students] are interested in, and thinking through the challenges of student journalism in a high school community."
"I want to leave people interested in journalism with some sense of encouragement that is exciting, rich intellectually, and worth pursuing," said Bazelon.