The Modern Day Marauder's Map
At home in Macungie, Pennsylvania, Jade Mehrtens, 17, sits at her dining table during breakfast and opens up Snap Map, a geographical tracking feature on Snapchat. Mehrtens, who is home for most of the summer, checks it close to five times a day: "It's just one of the things to do," she said.
"[Snap Map] shows that you're an active person, and you're cool because you go out," Mehrtens said, zooming in on her friend who is vacationing on a Connecticut beach. "I'm glad they're having a good time, but it also makes people feel bad who can't. I wish I could be there with them."
Like Mehrtens, many Snapchat users are following both their best friends and newfound acquaintances on the iPhone equivalent of Harry Potter's Marauder's Map. According to a Pew Research Center survey taken in 2016, 95 percent of smartphone users ages 18 to 29 get information related to their locations. Tracking on social media has become popular mainly because of its convenience and its ability to connect people from around the world. In June, Snapchat, which has more than 158 million users, released the Snap Map, an interactive and colorful world map where users can see where their friends are down to the exact street and building. The map follows in the footsteps of other apps such as Instagram and Facebook, but is the first real-time tracking service on a major social media platform.
In 2014 Snapchat introduced Geofilters, the app's first attempt at incorporating users' whereabouts into their daily selfies. After snapping a picture, users can swipe to the right and see a little icon with the name of their town, city or even neighborhood appear on the screen. In June, the company turned to real-time location tracking and bought the technology and layout of the map for up to $350 million from Zenly, a French app almost identical to the Snap Map.
Snapchat set the map to be off by default, but users can choose whether to turn it on for all their contacts or for just a few friends—or to remove themselves completely (this is known as going into "ghost mode"). It is available to all users who update the app to its newest version, and can be opened by pinching the camera screen as if zooming out a photo. According to a Snapchat spokesperson, a user's location is only updated when the app is open. For many people, however, this happens multiple times a day.
Snapchat's new feature represents what Brent Hecht, a professor focusing on Human-Computer Interaction at Northwestern University, called a "slow drip, drip, drip" in the direction of real-time location tracking. In 2009, Dennis Crowley co-founded Foursquare, an online platform where users "check into" places they visit to find friends near them. Since then, the number of social media users who reference their location online has grown significantly. According to a Pew Research Center survey in 2013, 14 percent of adult users (ages 18 and older) said they had location services turned on for social media apps in 2011, while the number reached 30 percent in 2013. This trend holds true for younger social media users as well, especially since 60 percent of Snapchat users are under 24 years old, according to Statista.
As location tracking and social media become increasingly popular, more users are educating themselves about how much personal information they should share with friends. Young people are more likely to answer questions about Internet privacy and protection correctly than older people, according to a Pew Research Center survey in 2017. Snapchat users may have greater knowledge of the risks associated with location tracking, but some of the less obvious ones can be overlooked.
"You can infer someone's religion if they repeatedly go to a synagogue," Hecht said. "People should consider location tracking in this context."
Hecht warned that while tracking devices may be a convenient way to find friends at an event or on the street, the ultimate goal of features such as Snap Map is to make money for the app through user-specific advertisements. Companies collect details about users every moment they are using the app, and then hand-pick advertisements that specifically relate to their demonstrated interests. For instance, Ginny Whitehouse, a professor of journalism at Eastern Kentucky University, said that she gets "a slew of gun-related stuff" sent to her social media accounts because she lives in Kentucky. "The information ends up being manufactured and targeted toward me based on the perception of demographics," Whitehouse said.
To some Snapchat users, however, taking precautions to ensure privacy does not necessarily mean signing off of the Snap Map entirely. For Otis Peterson, a 16-year-old high school senior from Missoula, Montana, the map's "gimmicky" appearance, coupled with its vibrant detail, pushed him to join immediately. He turned it on the day it debuted, despite knowing that his contacts could see his location whenever he opened the app.
"As someone who's grown up with a cellphone and social media, I have less of a sense of what true personal privacy is as a whole," said Peterson, who only allows his close friends to view his location. "I'm more open to letting go of certain parts of it, whereas my parents have a different feeling."
When he first showed the Snap Map to his parents, they were horrified by the idea of people seeing his exact location, especially at home.
"My mom immediately responded, 'Oh, that's so creepy,'" Peterson said. "She even said to me, 'and I know you couldn't even possibly understand why it's so creepy.'" But while Snap Map "has decreased personal privacy," he said that it is also "fun to participate" in something that links people around the world.
Whitehouse attributed interest in location-based services to homophily, or the idea that "birds of a feather flock together." Tracking services make it easier for people who frequent similar places to connect with each other, creating a connection that is unparalleled in a world where the Internet often dominates social interaction.
"There's a lot of pushback to people staring into their phones and not really engaging in the world around them," said Jason Wiese, an assistant professor in the School of Computing at the University of Utah. "[the maps are] trying to pull people out of their devices by meeting them in their devices and saying, 'OK, there's this cool stuff around you, so go out and engage in the world.'"
Similarly, Hecht said that location tracking allows friends and family to connect with each other in ways that are not possible by text or over the phone. When he went on a road trip in 2011, at the height of Foursquare's popularity, his family tracked his location to see where he was driving each day.
"I shaved my head, and my now in-laws enjoyed playing a game where they would open up Google Latitude and play the game 'where's baldo?'" Hecht recounted. "They'd like to see where I was going."
Services such as Snap Map and Foursquare not only help forge deeper connections in an increasingly digital world, but can also serve as a form of self-representation and a way to build a user's reputation. Mehrtens said that "a lot of people don't do Ghost Mode," especially during summer vacation.
"They want people to see where they are and what they're doing, especially if they do a lot during the summer," Mehrtens said. "It shows that you're an active person and you're cool because you go out and do all this stuff."
In a paper written by five graduate students at Carnegie Mellon University in 2011 titled "I'm the Mayor of My House: Examining Why People Use Foursquare – A Social-Driven Location Sharing Application," one of the major reasons people use the app (determined by a survey of 219 people) is to collect "badges," which users win if they check into specific locations multiple times. The more badges a user acquires, the better their image on Foursquare is.
Even though location tracking is a convenient way to connect with others, Hecht still warned users to be wary of their presence on these maps.
"Think about when you go to a church, synagogue or mosque," Hecht said. "Think about when you go to an abortion clinic. Think about your repeated pattern of going to Burger King at three in the morning."
About the Contributor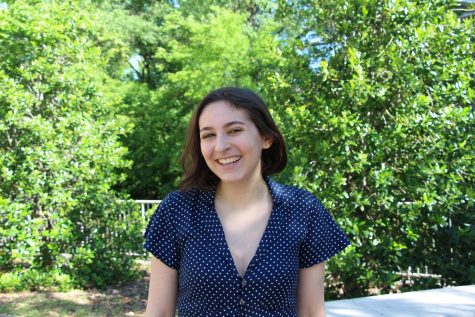 Liat Weinstein, Online Managing Editor
Liat Weinstein '18 is the Online Managing Editor of the Polygon this year. She joined the Polygon in the spring of her freshman year as the Photography...