Illegal vs. Undocumented: Poly Discusses DACA
Hang on for a minute...we're trying to find some more stories you might like.
Sitting around tables filled with laptops, notebooks and conchas (Mexican sweet bread), Poly students and teachers gathered Wednesday to discuss President Donald Trump's recent announcement to end the Deferred Action for Childhood Arrivals (DACA) program. Club Unidad, Poly's Hispanic heritage and culture club, called the meeting in order to discuss the school's response to the news.
"Capitalism is supposed to grow according to our needs," said Maite Iracheta, a Spanish teacher and Club Unidad's advisor. "It should be saying 'the more the merrier!'"
While the discussion focused mainly on students' reactions to Trump's decision to rescind the Obama-era executive order and bring the program to a halt, it also touched on the ramifications of Trump's decision. In addition, students found themselves disagreeing with each other on key issues in American society, including the differences between the words "illegal" and "undocumented." The group discussed the stigma around "illegal" immigration and what it means to be undocumented in the United States.
According to Pew Research Center, DACA currently affects about 800,000 young people, but is able to help about 1.1 million people study or work in the United States if they arrived in the United States before the age of 16. DACA gives young, undocumented immigrants a two year "grace period," during which they are not subject to deportation and are given a work permit. On September 5th, the Justice Department announced Trump's plan to terminate the program. Soon after, the Trump administration was met with great pushback from people around the country. Social media users flooded Twitter with #defendDACA tweets and photos. Singer Selena Gomez even spoke out against Trump's announcement, posting her opinion to her personal Instagram.
"My definition of a dreamer is someone that thinks big and believes anything is possible," Gomez wrote. "The wonderful people being threatened by the unfortunate reversal of DACA are exactly that."
At the meeting this Wednesday at Poly, students shot questions at each other and voiced their own opinions about the Trump administration's polarizing views on immigration. After a student made an analogy comparing undocumented immigrants to rowdy teenagers, senior Kayla Williams had a ready response.
"These analogies create a sea of faceless images," Williams said. "If you're going to look at DACA, look at it with an individual lens."
In addition, Spanish teacher José Oliveras rejected the use of the word "illegal immigrant" after some students started to use that term when speaking about DACA.
"Illegal immigrants… I want to challenge that. The idea of an illegal person is very problematic for me. We need to refine the way we speak about these things."
Toward the end of the conversation, many people discussed a lack of empathy in American politics today and how Americans often forget that undocumented immigrants are people with names, faces and stories.
To wrap up the conversation, senior Clara Sanchez-Vela brought the conversation back to Poly, asking how students should engage with the greater community on such heated issues.
Sanchez-Vela left the students and faculty with the question: "What can we do to make people empathize?"
About the Contributors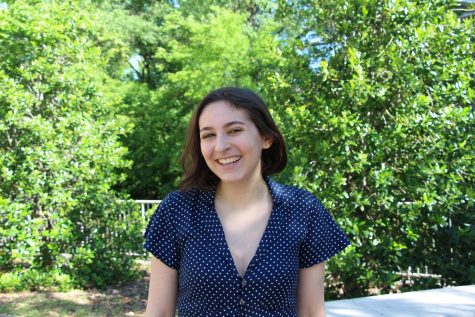 Liat Weinstein, Online Managing Editor
Liat Weinstein '18 is the Online Managing Editor of the Polygon this year. She joined the Polygon in the spring of her freshman year as the Photography...