Parkland Shooting Sparks Discussion Over Gun Reform, Nationwide Protests
More Stories about Gun Control
On Wednesday, February 14, around 2:00 pm, when gunman and former high school student Nikolas Cruz opened fire in a Parkland, Florida high school, Poly junior Michael Licata's phone lit up with yet another CNN notification. What Licata did next scared him almost as much as knowing 17 people died in the halls of Marjory Stoneman Douglas High School: he swiped up, clearing away the alert.
"I'm terrified of how numb we've become in the wake of such tragedies," Licata said. "I feel ashamed that I just pushed it away. It is inexcusable that something as tragic as this event has just become another notification."
Like Licata, many students and faculty, including history teacher and forum organizer Maggie Moslander, felt that the growing number of school shootings has led them to normalize senseless gun violence. Moslander coordinated the Wednesday, February 21 community forum in response to student concerns about the lack of government action after school shootings, which have become increasingly frequent and deadly. Moslander decided to center the discussion around the constitutionality of gun rights and the 2nd Amendment.
"Knowing the constitutional history of gun rights in America is really important to be able to figure out what to do next," Moslander said. "Yes, the Constitution is difficult to amend. And yes, sometimes it can feel like massive social change is really hard. But it's not impossible. We should keep that in mind when we feel hopeless about the gun debate."
According to a 2017 Pew Research Center survey, 51 percent of Americans support increased gun control legislation, whether that be more intensive background checks or limiting the sale of firearms altogether. Since the 1999 Columbine High School and 2007 Virginia Tech shootings, however, little has been done to restrict the sale of assault weapons. According to Everytown for Gun Safety, a nonprofit organization that advocates for gun control, 96 Americans on average are killed by guns each day, a staggering number compared to other developed countries around the world.
After the Parkland tragedy, President Donald Trump suggested arming more teachers in order to counter school shooters, and Florida Senator Marco Rubio supported a law to raise the age at which someone can buy a gun. Even so, students at Marjory Stoneman Douglas High School began the #NeverAgain movement days after the shooting to protest against the sale of assault weapons to civilians. According to a CNN recording, one senior, Emma Gonzalez, delivered an impassioned speech at a rally on Saturday, February 17, criticizing members of Congress for not working actively to enact safer gun legislation.
"If the President wants to come up to me and tell me to my face that it was a terrible tragedy and how it should never have happened… I'm going to happily ask him how much money he receives from the National Rifle Association," Gonzalez said.
Amid the plans for nationwide protests and fervent calls to members of Congress, Poly students debated the necessity of the 2nd Amendment and the ways to respond when unspeakable tragedies occur. In response to many students' comments about the influence of the NRA on American politics, junior Daniel Fernandez explained why he thinks the organization is so effective.
"It's a single issue group with a single solution," Fernandez said. "We don't really know what the correct approach to gun control is. But the NRA does: it's more guns. They have one clear idea of what to do."
Many students wanted to keep up the momentum of the #NeverAgain movement, fearing the tendency to grow accustomed to hearing about school shootings. According to a report done by Northeastern University, since 1996, there have been 16 school shootings with at least two deaths each. In the Newtown, Connecticut, and Parkland shootings, the gunmen used bump stocks and magazines, which allow semi-automatic rifles to work like fully automatic firearms, firing hundreds of rounds per minute.  
Some students, like freshman Lola Stephens, feared that the growing frequency of mass shootings reduced victims to numbers or a statistic.
"We're so focused on these numbers that we lose sight of what the actual issue is," Stephens said. "It doesn't matter how many shootings there have been. It doesn't matter how many people died because somebody did."
Although many students voiced their dissatisfaction with the lack of stringent gun control policies and movement toward reform, they still remained hopeful that change could come. To end the discussion, Moslander reminded students that movements that take time often produce meaningful change in the end. She also said that Poly students should take advantage of their education in order to advocate for causes they deeply care about.
"As a Poly community, most of us have access to a certain level of education and privilege that a lot of people in this country don't have," Moslander said. "The American Constitutional system is designed to be difficult to navigate. Learning all you can about effective ways to navigate it is really important."  
About the Contributor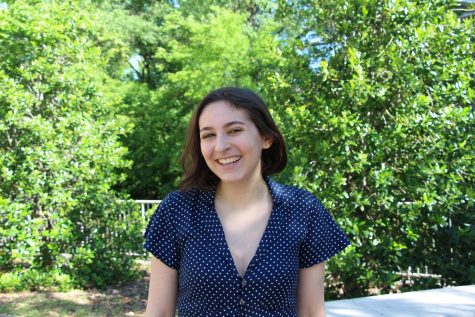 Liat Weinstein, Online Managing Editor
Liat Weinstein '18 is the Online Managing Editor of the Polygon this year. She joined the Polygon in the spring of her freshman year as the Photography...