Student Government Elections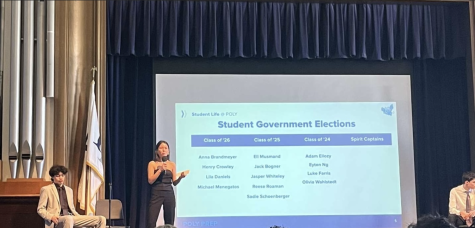 At Poly, the end of each school year marks the annual Student Government elections. This year, the election consisted of a multitude of new candidates, as well as returning ones. The 2023-2024 Poly Student Government Class Representatives and Presidential Candidates were as follows:
2026: Anna Brandmeyer, Henry Crowley, Lila Daniels, Michael Menegatos
2025: Jack Bogner, Eli Musmand, Reese Roaman, Sadie Schoenberger, Jasper Whiteley
2024: Adam Ellozy, Luke Farris, Eyton Ng, Olivia Wahlstedt
Rising freshmen, sophomores, and juniors elected Student Representatives, while rising seniors elected a President, a Vice President, and a Secretary. The senior candidate with the most votes is the President, the second most is the Vice President, and the third is the Secretary. 
In an email sent out to students by Math Teacher Stephen Bates, the results of the election for the 2023-2024 Student Government representatives were: 
2026: Anna Brandmeyer, Henry Crowley, Lila Daniels
2025: Jack Bogner, Reese Roaman, Sadie Schoenberger
2024:   President: Luke Farris 
Vice President: Adam Ellozy
Secretary: Olivia Wahlstedt
Former Student Government President and Senior Julien Feuerman commented that "Student Government serves as a place for students' voices to be heard." It serves as a "connection between students and the administration," so next year's student government will play an important role in the future of student life at Poly.
Some activities Student Government helped produce this year include: organizing Prom, creating a Student Government Instagram account, making appreciation signs for the Poly maintenance team, and setting up the winter formal. 
Since the pandemic, the Student Government has also been working to establish a secure foundation and source of communication between the students and the administration. Sophomore Representative Jack Bogner said, "It has definitely been a struggle rebuilding the Student Government throughout this process. The past two years we have done quite a lot in communication with admin, communication with other clubs, and in our overall productivity." 
The Spirit Captains for next year will be Rising Seniors Sebastian Vitali, Carolina Mannino, Eli Floyd, and Gabe Basile.