An Early End to Spring Sports
Emma Spring
The coronavirus pandemic has left sports fans around the world without basketball, baseball, hockey, golf, tennis, or soccer. On April 2nd, the Athletic Department announced that all Poly inter school competitions for spring 2020 will be cancelled.
Senior baseball player Nate Lewis said, "It's like someone took the bat out of your hands with the bases loaded. Your last season is what you look forward to and work for throughout your four years. Not being able to play, when you've dedicated so much to your sport and the guys around you, is all the more heart-wrenching."
Though the cancellation came as a surprise to some, it was deemed a necessary safety precaution. 
Head of Athletics Richard Corso said, "All the coaches agree with the decisions that the schools have made. The student-athletes understand as well. It's just terribly disappointing."
With the coronavirus spreading unpredictably in the United States and New York City, Poly had the responsibility to slow the spread and limit cases of COVID-19.
In mid-March, Corso and Athletic Director Kristin Cannon informed coaches, students, and families of the cancellation of all spring break athletic trips, games, and practices.
Corso said, "Just 3 or 4 days before we went on break, the Ivy League came together and talked about not having practice during the break, not having scrimmages, or games. It was decided that when we were coming back to school, on the 30th of March, we would try to start practices and finish the season then. Now, it will continue all the way through until the opening of school."
The Athletic Directors were scheduled to meet again over break to address how they would approach the rest of the academic year. Since then, the Ivy Preparatory League Heads of School and Directors of Athletics met via video conference to discuss the spring 2020 season and came to the difficult decision of complete cancellation.
While there is still a chance that practice and training may continue, with the loss of an entire season, athletes are struggling to stay positive.
"I am distraught," said sophomore lacrosse player Emmett Doty. "After putting in hours of preparation each day for the season so that I could start on varsity, it feels horrible to have that taken away. Luckily, I have two more years to play and I can't wait to have another chance to get back on the field."
Sophomore softball player Ella Carter said, "Although it's likely the best thing for us athletes with our health and safety in mind, it really is devastating. For seniors who possibly won't be able to complete their final season, for teams who are going for another championship, and for those who are working for certain accolades, it really is a tough thing to know that this might all be taken away."
As Carter highlighted, it is particularly hard for the seniors on the team who were playing their final high school sports season.
Senior softball captain Chase Behar said, "It is heart wrenching that I'll never be playing a softball game ever again, especially after growing up on the sport. These past four years have made my time at Poly so positive, amazing, and set such high standards for my happiness at school. It sucks I won't have my senior season or championship, won't experience another victory or loss, have a senior day, or even get to chant my favorite lineup cheer one last time."
Senior lacrosse player Jordan Denaver said, "I'm really disappointed that our season was canceled and I won't be able to play with what was my favorite team of all my years at Poly."
Senior cross-country and track runner Alice Cutter said, "My teammates and I have been working hard since mid-August. It is disappointing to know that we won't get to set new personal records, go back to Icahn Stadium one more time, or even have a last practice on the track. I am, however, comforted by the fact that distance running is the kind of thing that you can practice on your own, but it's hard without teammates or any competitions on the horizon. I am excited to see, even though I won't be a part of it, what the track and cross-country team can do next year."
With such devastating news, it is vital that Poly athletes come together as a team to get through this difficult time. Younger student-athletes should continue to show grit, practice and train on the Poly Devil's Instagram and remember that there is always next season. While seniors may not have a last season, they can carry the leadership they built as a member of Poly sports to future endeavors.
Leave a Comment
About the Contributor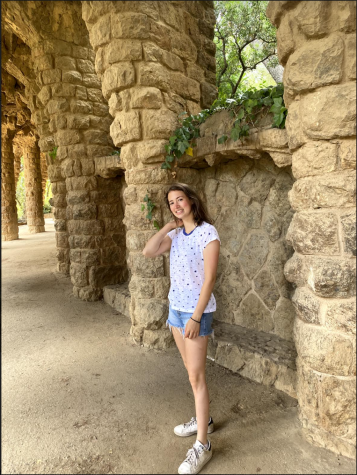 Emma Spring, Editor-in-Chief
Emma Spring '22 is currently an Editor-in-Chief of the Polygon. She began writing as a staff writer during her freshman year, became the Sports Editor...