Midterms Strike Back
Poly reinstates its midterms and final exams after returning in-person
Both midterms and finals had been suspended since the start of the COVID-19 pandemic, but upon a return to full in-person learning, Poly Prep held official midterm exams in December and January for the first time since 2019.
Poly has restructured the grading policy a lot over the past two years. At the onset of the pandemic in March 2020, Poly instated floor grades, which meant no one could get lower than their pre-virtual school grades for the second semester. With students stuck at home worried for their own health and safety, the administration decided not to penalize any student for the circumstances of lockdown, all of which was out of anyone's control. "To continue grading you as if we were all in physical school and nothing had changed wasn't going to work," wrote Head of Upper School Sarah Bates in an email to the Poly community in May 2020. In June 2020, virtual school took a mainstay and laid-back projects and year-end celebrations took the place of final exams.
In the 2020-2021 academic year, with some students still attending school virtually, midterms were again canceled, and cumulative end-of-year projects called "demonstrations of learning" replaced finals. Physics classes conducted egg drop competitions, junior English classes wrote and recorded podcasts, and other classes conducted a myriad of academic conferences and class presentations. Bates says that "demonstrations of learning" will again replace official finals in June this school year.
Post-virtual school, this year, Poly intended to hold midterm exam week the week before Winter Break. Midterms did take place Monday through Wednesday until an all-too-familiar spike in COVID-19 cases pushed the Thursday and Friday exams to the first week back in January. With a last-minute snow day, Friday's exams were again rescheduled to the following Monday. Nevertheless, after nearly two years, and, for many, a two-week hiatus, students struggled to adapt to the long, high-pressure in-person exams. 
"It was roughly a month between when we were prepared to take our midterms and when we actually sat for them. As much as it might sound nice to have a whole month to study, the fact is that a break is supposed to be a break. No work. Rest and relaxation. The change, an added stress, only made me and others less prepared," said senior Ella Leonard.  
While seniors and juniors had prior experience, even they weren't prepared for the unexpected change in schedule. At the same time, freshmen and sophomores faced midterms for the first time. 
"I was pretty concerned just because I feel like it determines a large chunk of our grade. It's one test. We're putting a lot of value on this one exam. It feels like this test determines our college and our lives," said midterm first-timer sophomore Zeke Wise. 
However, Bates stressed the importance of midterm examinations as both a practice experience in learning and mental toughness. "It's our responsibility to ensure that [students are] as prepared as possible for the university system, where in many classes [students will] have one or two [assessments] that comprise [students'] entire grade. Midterm exams are an excellent way to get used to the breadth and depth of material, learn how to manage time while preparing, and experience a timed test in multiple disciplines," said Bates. 
The administration left it to department chairs and faculty to determine which classes would benefit from a midterm exam. Bates explained that most yearlong classes have midterms, while many semester-long classes will have projects due before the end of the first semester. 
Head of the History Department, Maggie Moslander, chose to assess students in non-AP history classes in a project format. "We're always evaluating what sorts of pedagogical practices are best suited toward our project of helping students think like historians and write like historians, and we [concluded] this year that the work was more suited to an end of semester project. The 9th graders are doing a written piece, the 10th graders are preparing for 'Their Night of Ideas' in January, and electives are doing all sorts of different things," said Moslander. 
All AP classes and math classes took full advantage of on-paper midterms. 
Math teacher Rosemarie Izzo said, "I prefer having a midterm because I feel like with math, especially Algebra, it's hard to demonstrate those skills in a project. We need to be able to reinforce skills so we can move onto more material using those skills."
Moslander also emphasized the exam's importance. "I do think it's important that there are midterms for AP classes, mostly because I think it's the right thing to do to give students the experience of taking a test in a formal test environment in preparation for the AP test." 
Similarly, math teacher Victoria Stawowy-Mokos explained that the return of midterms is just another sign of pre-COVID life. "It feels like things are slowly going back to normal. Just going back to being able to have a benchmark assessment is nice. I do like the projects in the past, and I was able to see that they did work, so now we can keep doing it in the future," Stawowy-Mokos said. 
Bates clarified, however, that the weight of the midterm depends on the department, but will not exceed 10 percent of students' yearly grade.  
Bates said, "I am a proponent of ensuring you all have experience with midterms and learn how to manage your time, stress, and preparation in a low-stakes manner (as opposed to doing it for the first time when you get to college and one test is 50 percent of your grade!)."
Leave a Comment
About the Writer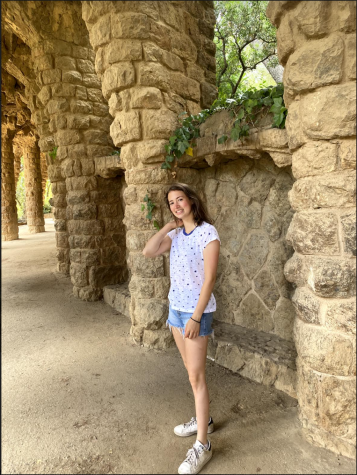 Emma Spring, Editor-in-Chief
Emma Spring '22 is currently an Editor-in-Chief of the Polygon. She began writing as a staff writer during her freshman year, became the Sports Editor...