Review: Celebrities Attempt Gilded Age Fashion at the Met Gala
Many people argue that the 2022 Met Gala theme had one of the most straightforward themes for attendees to follow. The theme was "Gilded Glamour," and Met Gala enthusiasts were very disappointed after seeing all of the red carpet looks. Personally, I can see where the disappointment came from. The Gilded Age is the time between roughly 1870 to 1900. This theme entails corsets, big hats, and elaborate floor-length skirts, essentially the fashion you would see in Bridgerton. However, most celebrities did not deliver. Instead of sharing my opinions on the worst looks of the night, I will be focusing on my top three favorite looks of the night. What I was looking for in the outfits was the ability to have a personal and distinct detail and fitting the theme while looking glamorous.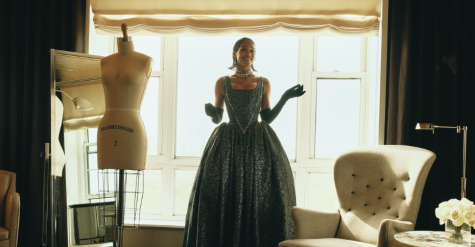 Harper's Bazaar stated that actress and model Laura Harrier "wanted to reference the late 1800s in her look without having it look like a costume." In my opinion, she did just that. Harrier wore a gorgeous ball gown, covered head to toe with silver and shimmery black details. The dress has a built-in corset that includes a subtle but very effective "V" shaped detail in the front of the dress. She accessorized with gray and white chunky pearls, black velvet gloves, silvery eye shadow, and a sleek wet-look hairdo.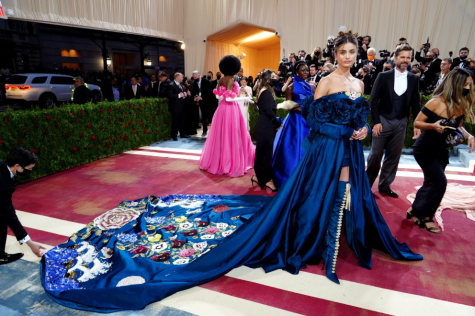 Model Taylor Hill truly stole the show in this gorgeous off-the-shoulder blue dress that included a massive train with embroidered flowers arranged in a beautiful pattern. Both the embroidered flowers and long train of the dress tie into the theme, but this look took a modern twist by having a short cut in the front which showed off thigh-high stiletto boots that matched the satin fabric of the dress. This dress is without a doubt a work of art.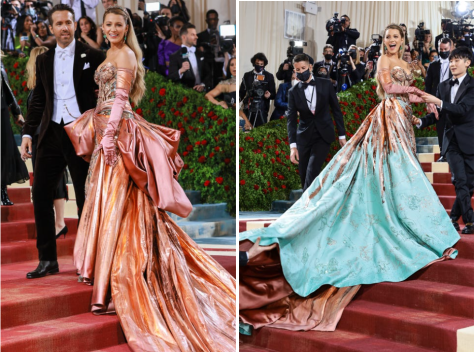 It is definitely a challenge to stand out at a fashion event as significant as the annual Met Gala, but actress Blake Lively seems to hardly ever disappoint with her looks. At first, we saw Lively show up in a gorgeous, shimmering, rose-gold gown with a very extravagant bow on her waist, but later we got a lovely surprise when the bow on the dress untied, and revealed a stunning light blue train. This transformation was meant to pay homage to the Statue of Liberty and how the structure turned from a copper color to teal. The light blue details of the dress were inspired by the constellation design on the ceiling of Grand Central station. Lively accessorized with matching gloves for both outfits and stunning jewelry that included a seven-tier crown which was also inspired by the Statue of Liberty.
Moving on from the beautiful and very well-received looks we saw at the Gala, let's discuss Kim Kardashian's look.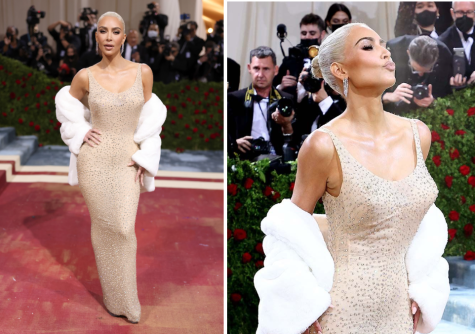 At first glance, this is a pretty generic and glamorous dress for Kardashian to wear. But it seems that many onlookers are absolutely outraged by the fact that Kardashian is wearing this dress, as it is the same dress that actress and American icon Marilyn Monroe wore when she sang "Happy Birthday" to former president John F. Kennedy. According to various articles about the event, many people are very angry with Kardashian for many different reasons. Some say that she didn't deserve to wear this dress because she and Marilyn Monroe are not on par. Others are saying that this piece of history should have been left untouched. 
Personally, I agree that Kardashian should not have worn this dress for a few reasons. Firstly, this dress was worn by Marilyn Monroe in 1962, meaning it doesn't even fit into the Gilded Age theme time period-wise. Some people defending Kardashian argue that Marilyn Monroe was very famous and influential during the "Golden Age of Hollywood" and that's why it fits the theme. I personally disagree and don't really understand how mid-20th-century Hollywood fashion has anything to do with the fashion of the Gilded Age.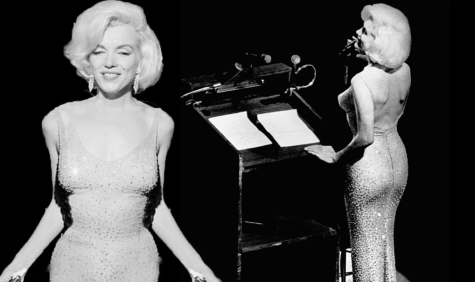 Monroe did not seem to have as much control over her presentation and body image as Kardashian does. She tried to prove how serious she was as an actress and performer but was often torn down and further exploited for her "sex appeal" and her body. 
One can argue that Kardashian is also exploited for her body and physical appeal, but it seems that she embraces it more and consents to it much more than Monroe ever got the chance to. Kardashian even owns a fashion-line dedicated to shapewear. Monroe was continuously treated poorly due to the fact that she was a successful woman who gained popularity for being attractive, which wasn't even her choice. It didn't matter that she was singing for the president at a political event — she was still treated like a sex object. Monroe fought so hard for her entire life trying to be seen as more than that. People believe that Kardashian wearing her dress reduced Monroe to exactly what she did not want to be: a sex symbol. In my opinion, it was irresponsible and unnecessary for Kardashian to wear this dress. 
Kardashian also had a replica created that would have been indistinguishable from the original. She had to wear it after the red carpet because she was not allowed to sit or eat in the real dress. So why didn't she wear the replica on the red carpet? The answer seems simple: She wanted to wear the orginal dress in order to associate herself with Monroe because both of them are American "sex icons." I believe the dress is a piece of history and should not be put at risk of damage just for the sake of an ego boost and a photo. 
Monroe historian and collector Scott Fortner said in People Magazine that "the dress was custom-made for Marilyn Monroe. It's not an off-the-rack garment." Monroe had to be sewn into the dress in order for it to fit perfectly for her body. Fortner said Monroe wanted "to design a truly historic dress, a dazzling dress that's one of a kind" — a dress that "only Marilyn Monroe could wear." The dress fit Monroe so perfectly that if it were to be worn by anyone else, it is very likely that fabric and seams would be stressed. 
It is up to the individual to decide whether or not this dress should have been worn by Kardashian, but I believe that before someone makes this personal decision, they should ask themselves, was it worth it? Was it worthwhile to potentially permanently damage a delicate piece of history? You decide for yourself but I do not think so.