Alex Carter Joins the History Department
More People Stories to Read
Not many American history teachers can say they have seen the hit Broadway musical Hamilton (whose tickets are extremely hard to come by) and certainly very few can say that their tickets were a gift from their students.
Poly's new history teacher, Alex Carter, however, is so adored by the juniors in his history classes that they all chipped in to give him the opportunity to attend the show.
"Mr. Carter always incorporates Hamilton into our lessons. He's super passionate about what he does and tries to make everything as fun and interesting as possible," said junior Erica Finkelshteyn.
Once, instead of giving his students an essay, Carter had them have a debate using only Hamilton lyrics. "We used the track 'Farmer Refuted.' They picked a side and annotated the lyrics using primary documents," he said. "Hamilton is an exceptional play and speaks to how interesting history can be if we think of it in a contemporary light," he said. "The use of people of color to represent people who owned slaves and to represent our founding fathers creates a really interesting dynamic."
Born in Washington D.C., Carter was surrounded by history, and he developed a strong interest in history and politics as a child.
He said, "My grandfather influenced me as well. He was particularly interested in African American history."
Carter realized he wanted to teach history after reading The Souls of Black Folk by W.E.B.
Dubois. "I felt like I wanted to tell everybody about the book," he said. Carter chose to come to Poly because of a Polygon article he read when he was at his interview. "The first thing I did was pick up a copy of the newspaper and read an article about race." He said, "I knew this was a place I want to teach at because of how insightful the article was."
Carter recently had a baby, named Easton James, with his wife who is the art director for an advertising firm. "It is exciting," he said. "Exciting and tiring." History teacher David Reid
said, "He's a stand-up guy and close compadre with a vast intellect, and has made vital contributions to our curricula across the grade levels. We are extremely fortunate to have him at Poly. We even forgive him for being a Capitals fan."
Carter hopes to bring to Poly "perspectives in classrooms that tend to be discounted or
discredited."
Evidently, Carter has already had a deep impact on his students in his short time at
Poly.
Leave a Comment
About the Contributor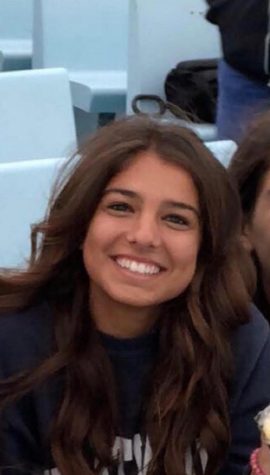 Julia Zrihen, Editor in Chief
Julia Zrihen '20 is the current Editor in Chief of the Polygon. She has been writing for the newspaper since ninth grade. At Poly, she is the president...